US
'08 Vintage Adventure: Great American Road trip – Wisconsin, Minnesota & South Dakota
Hustlerfest, the calendar of events says it all. But if you are itching for more, Hustlerfest is an annual village fete, that originated in 1922. There are your typical country fair staples: tractor parade, pie eating contest, bale throwing, and bingo. However, there are some unique activities including chicken throw (organized by gender and age, assuming that organization is for the human participants and not the fowl participants. Since chickens can fly, I'm hoping the chickens aren't hurt/traumatized by the experience…) and nail driving.
One question though, what is the anticipated activity "1:00 Chicken Poop"?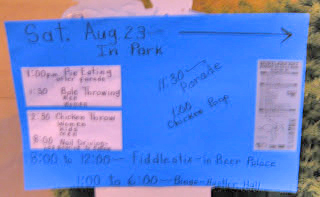 The next day was driving through Minnesota. It. Is. Really. Flat. Missing the rolling hills of Wisconsin, and disappointed that one of the three natural prairies in the world is now the "corn belt," and the prairie is gone. [The other prairies are in Argentina and Russia.]
Random road signs:
"La Crosse, Wisconsin's ELVIS EXPLOSION Sept 5, 6 & 7″ — 3 days of Elvis in La Crosse?? Why?
"Johnson & Doerhoefer, PA, Certified Public Accountants" — nothing terribly interesting about that except for sign sharing the same billboard and the building: "The Beer Depot, A Large Selection of Beer, Wine & Liquor." So if you end up getting audited or have a hefty tax bill, you can quick drown your sorrows.
"Kum & Go" — a chain of gas stations. I so want to make a pithy comment about this one, but I'll leave it up to you.
"Plain, Wisconsin" – town road sign. The town itself was very picturesque…all 5 blocks of it.
"Kiester, Minnesota" – town road sign. Never saw the town, but I hope it over compensates for its naming misfortune.
Upon arriving in South Dakota, I was getting sleepy…so much flat, straight road will do that to you! Thought it would be best to see at least one "sight" before going to my Victorian mansion bed & breakfast. The one sight happened to be next door to the B&B – the Pettigrew Home & Mansion. It was the home of South Dakota's first US Senator (coincidentally enough Sioux Falls is home to one of South Dakota's current US Senators). Mr. Pettigrew was considered a "collector" of objects….today he would be considered a thief or a looter.
Next up….the Corn Palace, the Badlands….