US
'08 Vintage Adventure: Great American Roadtrip – Wisconsin (Day 1)

My road trip started off later than I had planned. Originally I was going to pick my rental car up at 8 a.m., but since I didn't get out of bed until 8 a.m….well, things were delayed from the get-go.
I again battled Illinois Department of Transportation (IDOT), it seems every 20 miles there is a toll, for no apparent reason. In California, I know of one toll way, that is going over the Golden Gate bridge, however, I feel you get something for your toll: 1) entry into San Francisco and 2) entry into Marin County. What do you get in Illinois? Rockford. Enough said.

As I made my way into Wisconsin, I was struck with a couple things.
1. No tolls
2. Prevalence of barns and grain silos
3. Lower than expected cheese hawkers

Now back to the trip.

The area of Wisconsin that I have visited is rural. Not just small towns, but microtowns. One place had a population of 376, and was maybe 4 block long.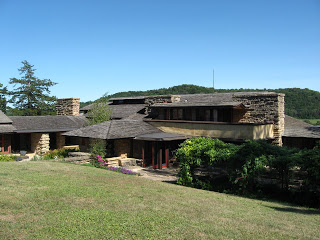 Inspired by my bookclub's selection "Loving Frank," I decided to take a trip to Taliesin near Spring Green, Wisconsin. This trip was my real reason in coming to Wisconsin. Well the surrounding countryside is gorgeous, lots of rolling hills, wonderful gardens with blooming flowers and Asian sculptures, a lovely lake that Wright had dammed up so he could generate hydroelectric power. All-in-all a great place for a love nest.

What I found somewhat disconcerting was the cheaply made furniture and rather shoddy construction. Almost all the furniture was made out of plywood – except for the stuff he ordered from Marshall Field's. The Taliesin compound – consisting of living quarters, studios, workman quarters – has huge structural issues. The guide said that Wright never intended the facility to last a long time, and that it was to be "consumed by the earth."

After Taliesin, I was on my way to my lodgings: Sunnyfield Farm Bed & Breakfast in Camp Douglas…at least that was what I was told. It turns out it is near Camp Douglas, but actually closer to Hustler, and it was Hustlerfest time….