Jordan
Jordan: Women inspiring women
In March we celebrate women: Women's History, International Women's Day and for several countries Mother's Day. With my "wintering in the Middle East" quickly nearing its closure, I'm reflecting on the inspiring women I have met. Below are two stories of women inspiring women from my adventures in Jordan.
Traditional crafts lay the foundation for refugee survival
When Lara and her mother, Hansa, fled Syria in 2012, they assumed they would spend a few months in Jordan and then return home. They have not been home in nine years.
Like Lara and Hansa, most Syrian refugees in Jordan are women, who came with their children or elderly parents. Prior to fleeing, many neither worked nor interacted with others outside of the home (e.g., they did not go to the market). Once in Jordan they were forced to assume financial responsibility for themselves, and often others both in Jordan and at home.
In 2016, Jordan started to grant work permits to Syrian refugees; however, they are hard to come by. For those who had careers in Syria, many are not able to continue them as refugees.
Including Lara.
She had been educated and had a career in finance in Syria. However, that career path was not available to her Jordan. (note: This is common across the world, including the US, where refugees might have been doctors or teachers in their home country, but their credentials are not recognized by their new country's potential employers, thus limiting their opportunities.)
To identify new career opportunities and purpose, Lara looked to her community of fellow refugee women.
She found it in the form of traditional Syrian craft skills of soap making, crocheting, and sewing. Through her organization, Jasmine, she has enabled 40 other refugee women to not only earn an income, but also to build confidence so they can participate in activities outside of the home. During COVID, they are sewing masks, offering private soap making and crochet classes, and selling their handiwork.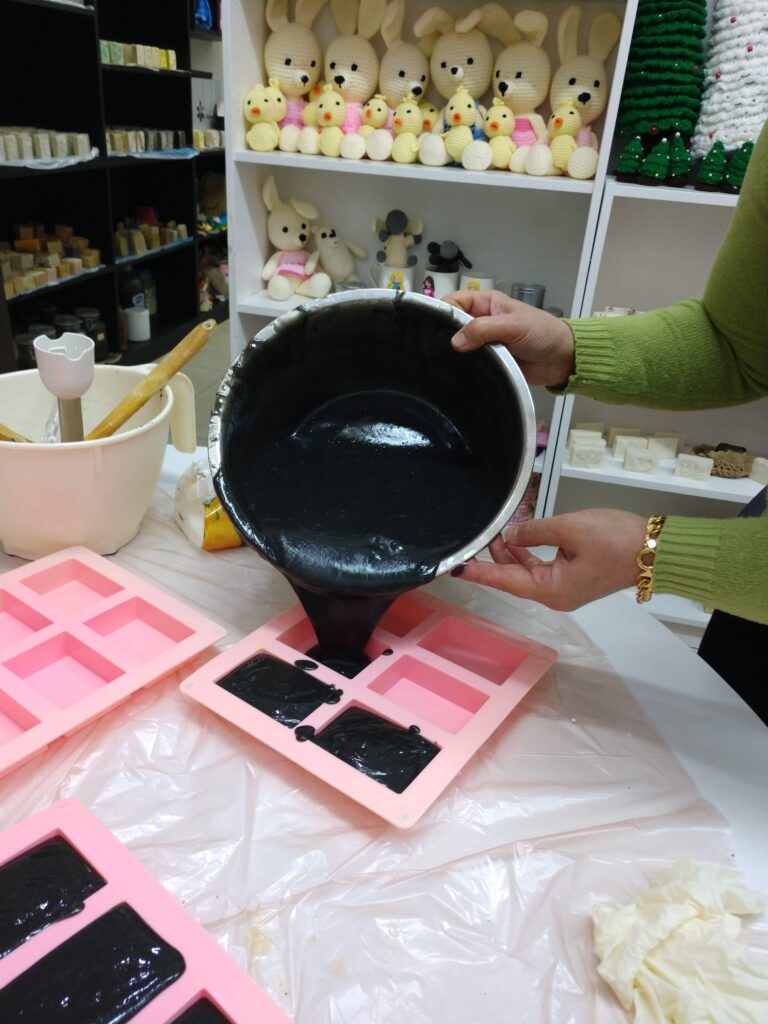 When visiting her off the beaten path workshop and store, I was immediately surrounded by pink and lots of flowers. It was a happy cotton candy place. But as I looked closer, the colorful wall decorations were children's drawings of their refugee experience: camp life and separation.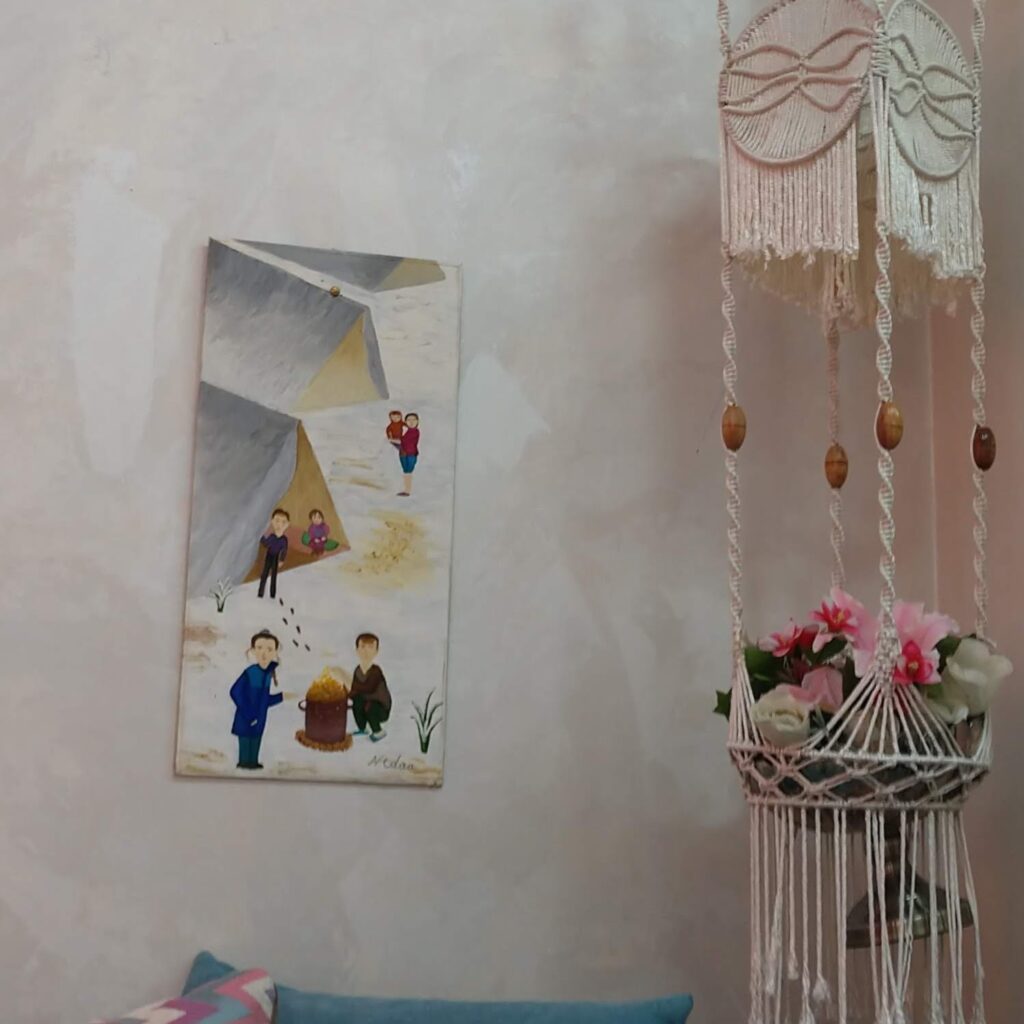 That is when it really hit me. Jasmine's purpose was laser focused on women's financial, physical, and emotional well-being in a land far from home.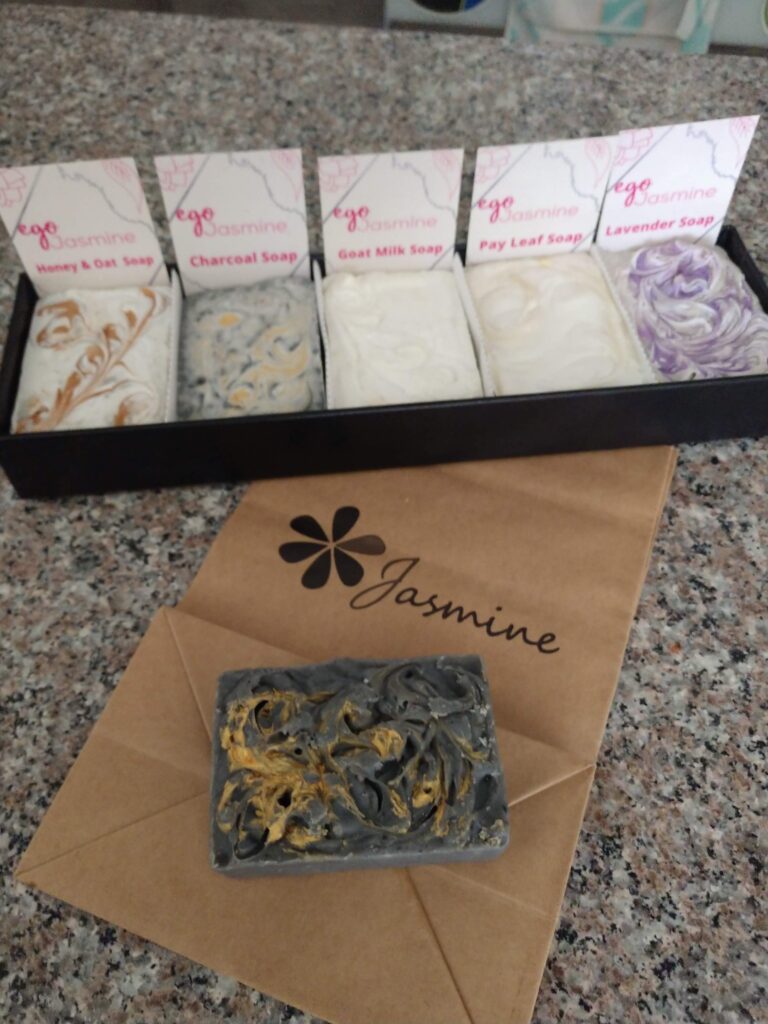 In the words of Lara, "Jasmine was created in the realm of the economic crisis to empower women in the society to rise above this tragedy and become strong women in their communities and influence others. We want for these women to strongly react in a smart and market-oriented mind to face social and financial challenges."
More information about Jasmine (from their website: https://egojasmine.com/):
"Jasmine started out with 5 women and now it has reached 40 women in total. These women grew stronger together and have reached a level where they can stand their grounds and be independent in their communities. Jasmine trained over a thousand women in handicrafts, tailoring cloths, organic soaps creation, cosmetics, and face masks during COVID 19 Pandemic, targeting different segments (women of all ages, refugees in particular, seniors, youth, and war casualties), and secured employment for over 70 women.
"Jasmine's plan for next year is to target 200 women across Jordan to be trained on vocational handicraft workshops. At the end of each workshop, a round session will be facilitated between trainees, for them to have a chance to discuss legal issues they face on daily basis and discuss problems and solutions, in order to assist and support them in raising their awareness on human rights and laws.
"The overarching goal of Jasmine is to empower women economically and socially for self-sufficiency, employment growth, and social justice through innovative efforts."
Voice from above becomes a guiding hand
"10 more minutes! 10 more minutes!"
Those were the words that echoed off the canyons in Petra's High Place of Sacrifice. After climbing a steep, unmarked cliff path – solo and seeing only one other human – for about 30 minutes, and having a mild anxiety attack at a particularly narrow switch back on a sheer cliff about 450 feet above ground, I decided to turn back and hike back down.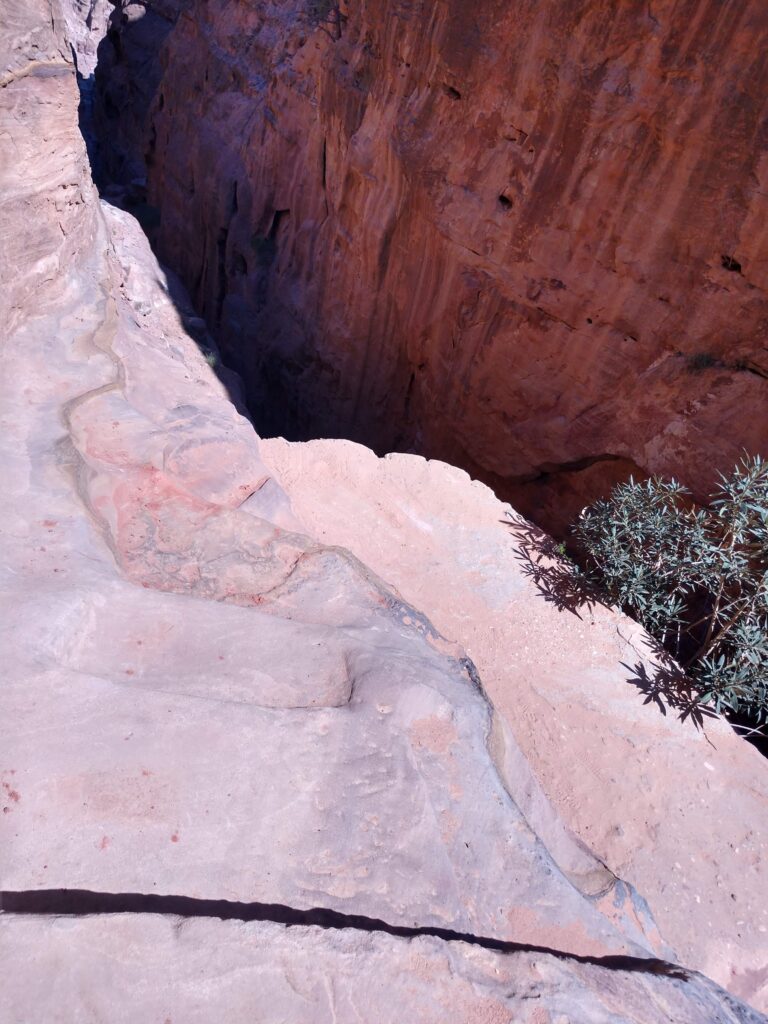 However, for 15 minutes I kept hearing "10 more minutes! 10 more minutes!"
I wasn't sure if this unseen voice was talking to me or talking to another unseen person. Eventually, the source of the mysterious voice from above was revealed to me: a small, robed figure silhouetted by the early morning sun stood on top of the cliff shouting at me.
"I'm scared!" was my rejoinder. Because honestly, I'm not the most sure-footed, and I have fallen down the side of a desert cliff while hiking solo. So, there was some grounding in this fear.
"10 more minutes! You are almost there! Beautiful view!"
"That's ok! I'm going to go back down!"
"10 more minutes! You can do it! I will help you!"
After mentally debating with myself for a couple minutes, I decided to reverse course again and hike (and sometimes crawl) back up the canyon. I passed the site of my previous stopping point. It didn't look that scary now.  
"You are doing great! Almost there! You are a strong woman!"
Throughout my climb I heard the voice from above encouraging me to continue my ascent.
Out of breath and with a racing heart, I finally met my cliff top coach and was surprised. Based on others I had seen roaming around Petra, I had expected a pre-teen/teenage boy. Instead, I was greeted by a rather diminutive young Bedouin woman, Noor.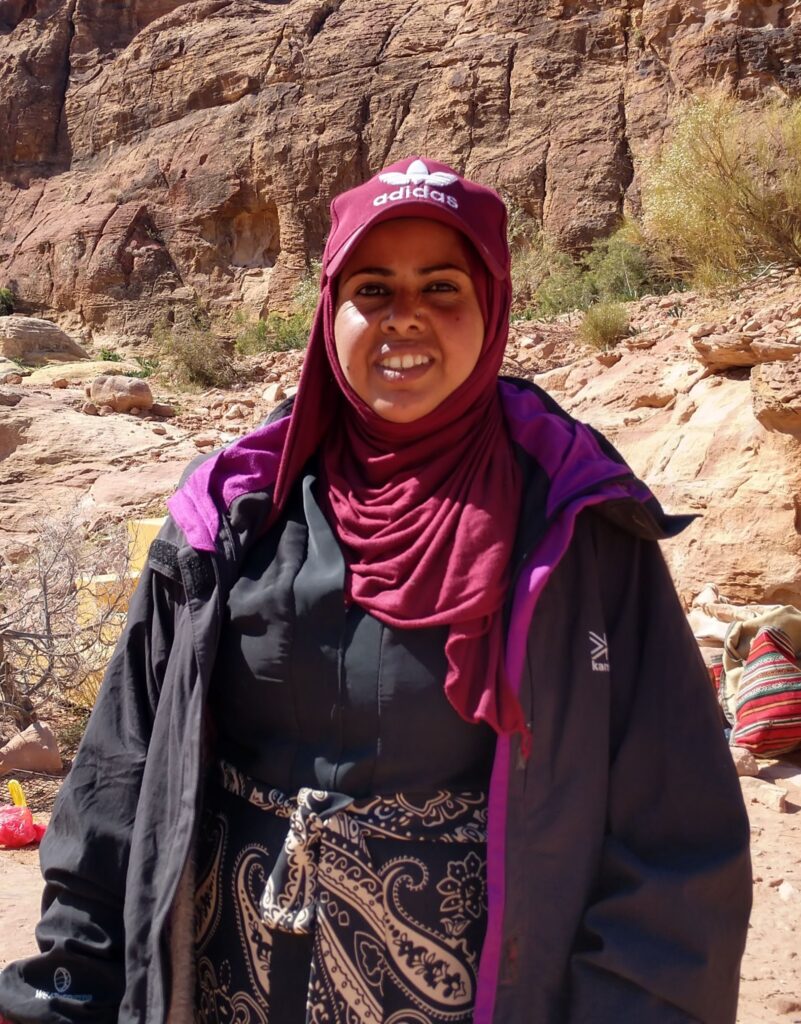 She invited me to join her, an elderly man, and a middle age woman for a cup of freshly campfire-brewed tea at their open-air camp. I gladly accepted their hospitality. Within five minutes a family of five came up the path, Noor offered them tea, but they declined and continued on their path.
After catching my breath and downing the tea, Noor offered to take me up to the High Place of Sacrifice. (note: Besides the one sign at the beginning of the hike, there are no other signs on the path, and one time I did start to go off on the wrong path.)
At times she literally gave me a helping hand up the path, but mostly it was words of encouragement. To distract me from how perilously close we were to the cliff edge, we talked about our lives.
Born and raised in the nearby caves, Noor never went to school and learned English from interacting with tourists. Her father has 16 children from two wives. From her mother, she has four sisters, one has seven children, another has two. Noor's forced marriage lasted six years and did not produce any children. Every day she walks from her village from over yonder to run her shop, which consists of a few trinkets and rocks on a cliff side table.
Eventually, we made it to the sacrificial location, which Noor quietly pointed it out to me, while the family of five traipsed ahead to the cliff edge for their photo opp.
"They don't deserve to see it," she whispered.
After she explained the purpose and process of the site, we meandered to the cliff edge. I made sure we stopped by her shop, so I could buy a few items. As a thank you gift to me, she gave me a beaded necklace that was to be passed along to my mom. (She traveled with me during part of Jordan adventure, but was resting at the hotel.)
Not only was Noor inspiring – leaving a forced marriage and becoming an extremely hospitable entrepreneur – but with her guidance, literal helping hands and words of encouragement, I was able to experience something truly awesome and inspiring in those "10 more minutes."
And the view wasn't bad either.