Mexico
Mexico Week 4: Comida de Mexicana y Maya
Food is a culture's greatest ambassador. The aromas quickly tap into your memory and flavors transport you back. Every travel experience I have there is a stamp in my gastronomical passport.
Growing up in Southern California and Arizona, Mexican food was always the food my family would crave when we came home from traveling. After a month in southeast Asia or a couple weeks in Africa, our first restaurant meal was always at El Paso Cantina.
While in the Yucatan peninsula, I've focused on having as authentic cuisine as possible: eating local, seasonal and traditional foods.
Tacos
I went on a walking Tulum taco tour hosted by Victoria, an American expat, whose family roots are in Durango, Mexico, to sample three different types of tacos from three different Mexican cities and states: Tlaxcala, Mexico City and the Yucatan.
Tlaxcala, specifically San Vicente, is the birthplace of tacos de canasta (basket tacos). We visited a little taco table, where the proprietress sold her homemade tacos, along with fresh orange juice. In this case, the tacos were really made at her home, and she brought them to this pop-up table stand to sell. The papa y chorizo and pollo tacos were marvelous. Unfortunately, every time I tried to go back for a taco fix, she wasn't there.
Tacos de guisados, are the most popular on the streets of Mexico City, the filing is typically a stew or braise cooked in clay or ceramic dishes. We visited a little taco stand – Taqueria el Perico – and I had chicharron in salsa verde and a hibiscus drink. This was my favorite taco of the tour, and I came back a couple days later for another round!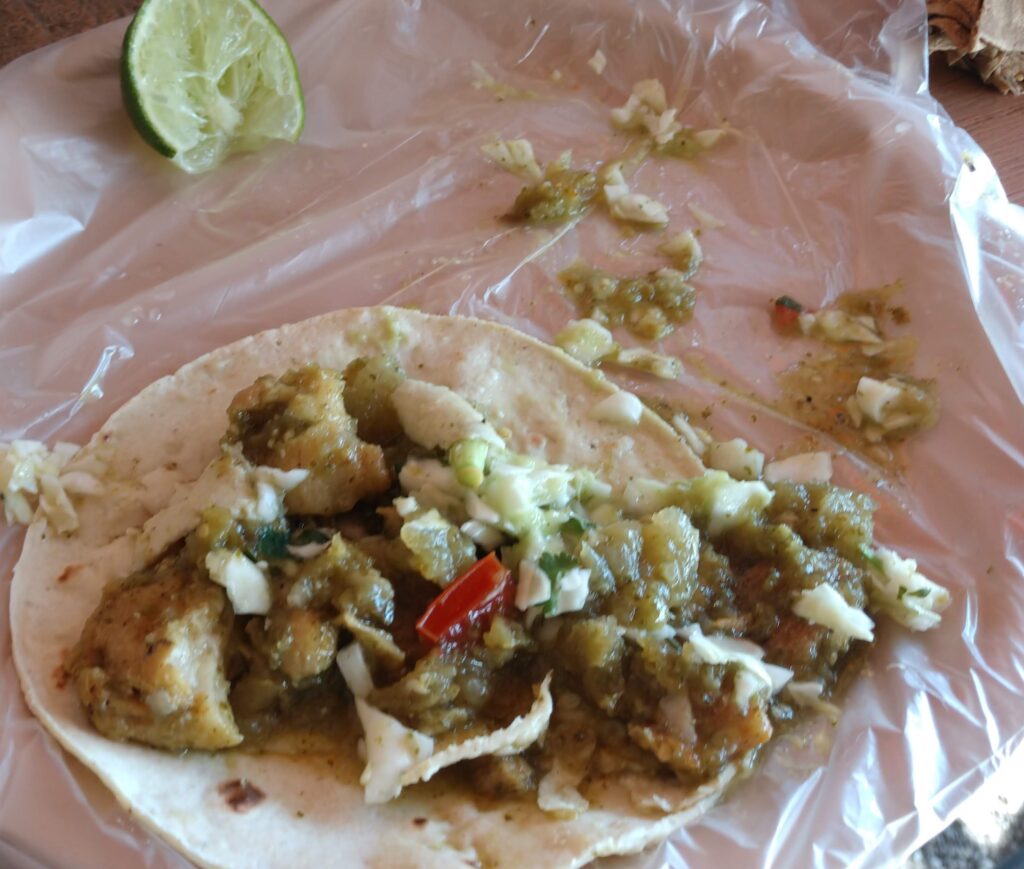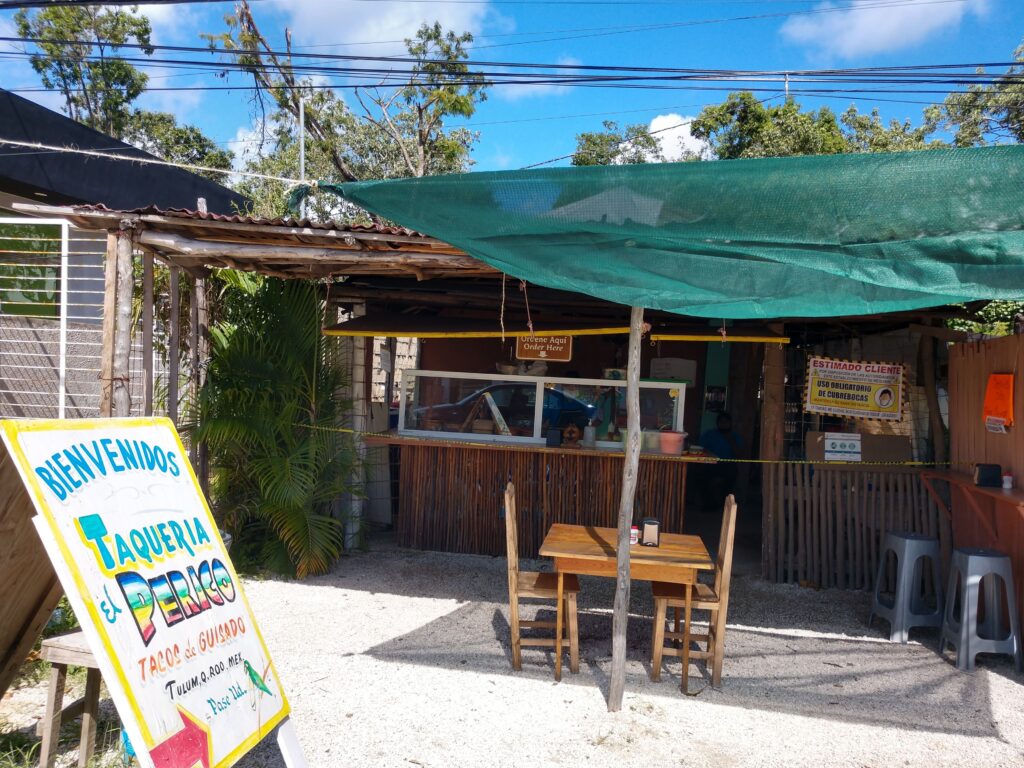 Yucatan-style tacos, requires the meat (or applicable filling) to be marinated for hours in spices and citrus, creating a very deep and flavorful taco. Our trip finished at a very well-known restaurant – Taqueria Honorio (considered by many to be the best taco place in Tulum) – where I had a poc chuc and cochinita pibil (local specialty). The cochinita pibil is seasoned with sour oranges and achiote seasoning. The cochinita is cooked in a pit for 12 hours. Each morning, at 5 a.m., the cooked meat is collected and taken to the taqueria for tacos.

Jungle dining
Riviera Maya is more than beaches. In fact, most of the land is jungle, which presents some amazing opportunities to dine "jungle alfresco."
Breakfast
After a VERY off-road drive, where I felt like I was Indiana Jones, but in a Nissan Versa, I had a delicious private vegetarian brunch at an off-the-grid, completely self-sustaining P&B (not B&B, but P&B) – Meli-Melo P&B. Quentin, a French chef and proprietor, created a delicious tartine with basil hummus and marinated vegetables, plus a wonderful season fresh fruit salad and fruit drink. He also gave a tour of his land, which is a little bit of paradise north of Tulum.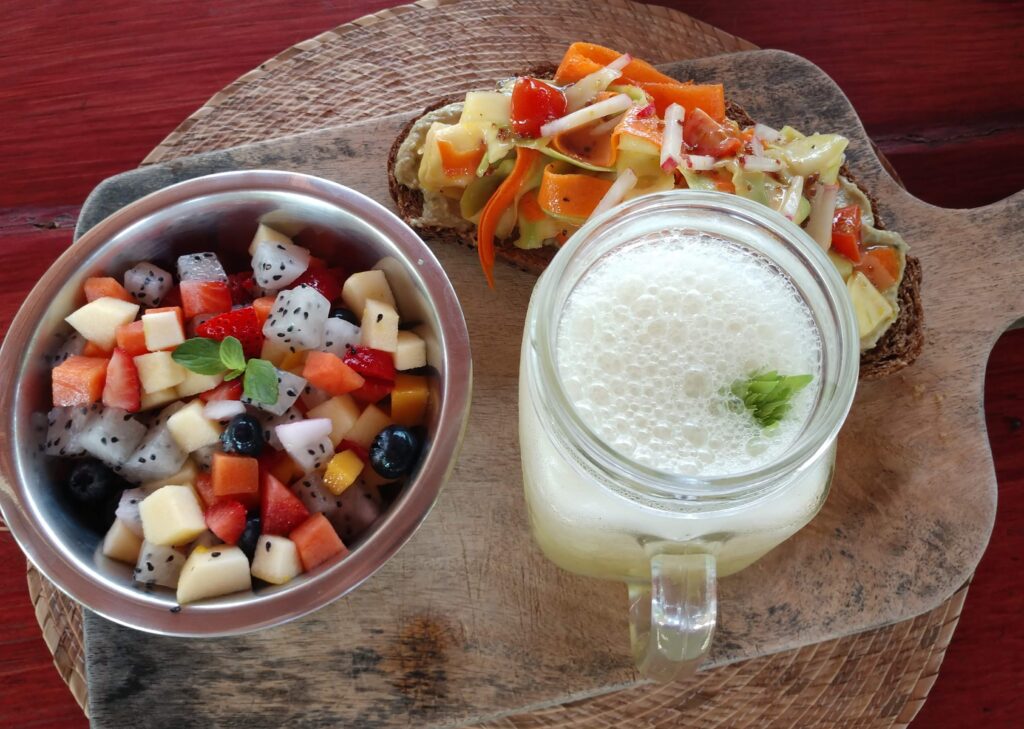 Lunch
Playa del Carmen, is known for shopping and beaches, so I was pleasantly and extremely surprised, to stumble upon the hidden gem of Aldea Corazon and its wonderful multi-tiered jungle patio with a cenote. The restaurant fronts the main pedestrian shopping thoroughfare and presents a very modern vibe. Based on the location, I was a little concerned about the food, but again very surprised! Had a wonderful mezcal cocktail (made with 400 Conejos mezcal) and a traditional Maya tosada with pumpkin seed spread and chaya (local high anti-oxidant green), plus a delicious tres leches cake.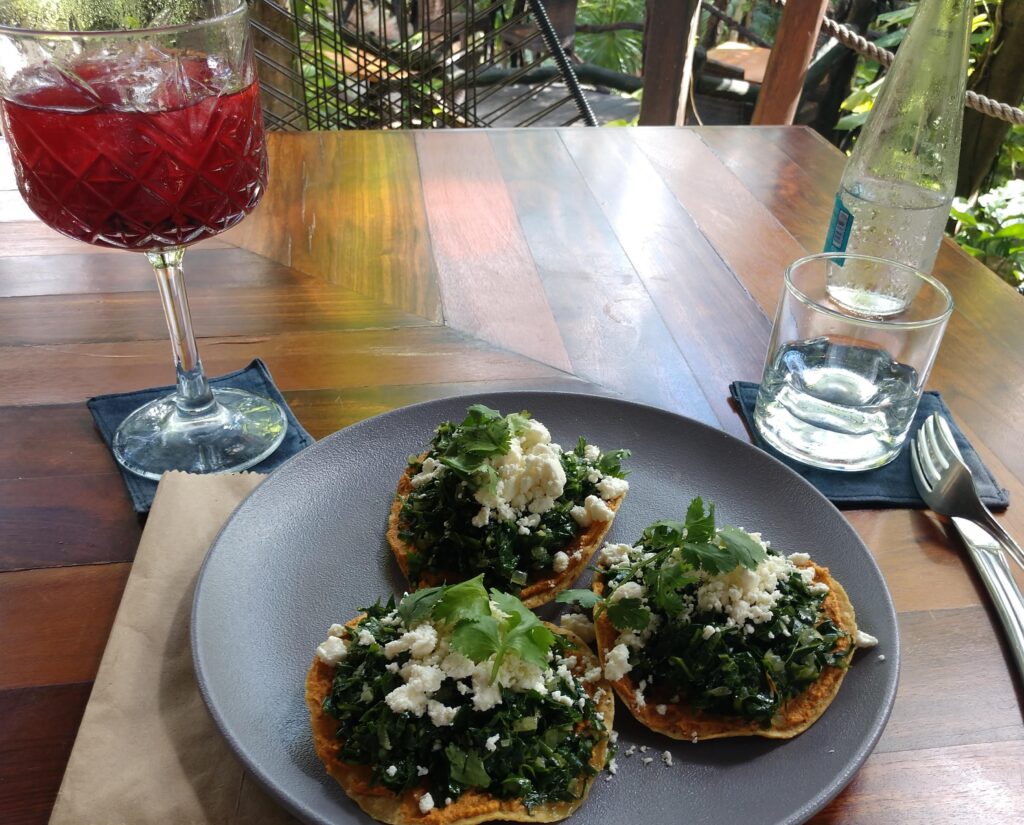 Dinner
There have been two distinct jungle dinners:
A small private open-fire meal with mezcal tasting, which was held in a former plant nursery in the middle of Tulum city.
A large, eco-friendly restaurant built with re-used and natural materials on the Tulum beach road.
The first dinner at Cocina Selva was very intimate, and I felt like a guest at a friend's house. A friend who is an amazing chef and landscape architect, and just happens to know a lot about mezcal! After sampling, about five different mezcals, I found I preferred the lighter style, including the 400 Conejos brand. The food was delicious: a shaved jicama and vegetable salad, steak and a pan de muerto ice cream dessert.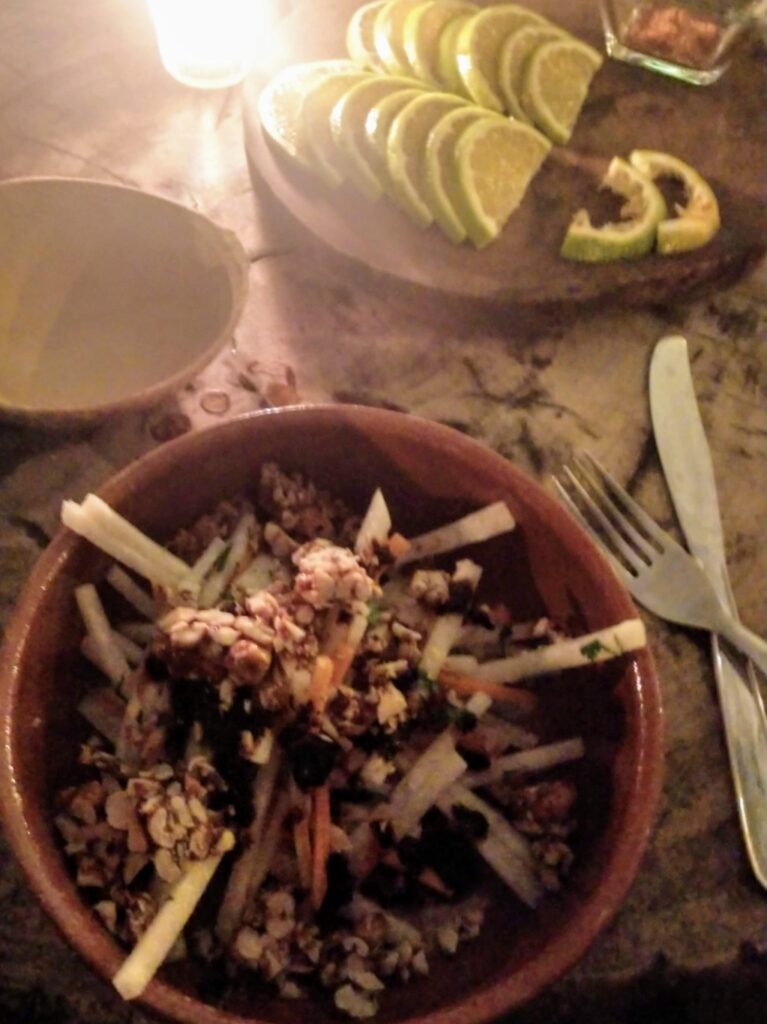 For the second dinner at Kitchen Table, I definitely felt I was at a trendy restaurant: great music (playlist is on Spotify), beautiful people (lots of people "doing it for the 'gram"), amazing ambiance and terrific food. I had the sope with corn dough, fresh huitlacoche, avocado crema, picked red onions, and grilled shrimp with swiss chard, onions and orange. Plus I had two indulgences: a delicate gin and guava cocktail and a salted caramel with walnuts dessert.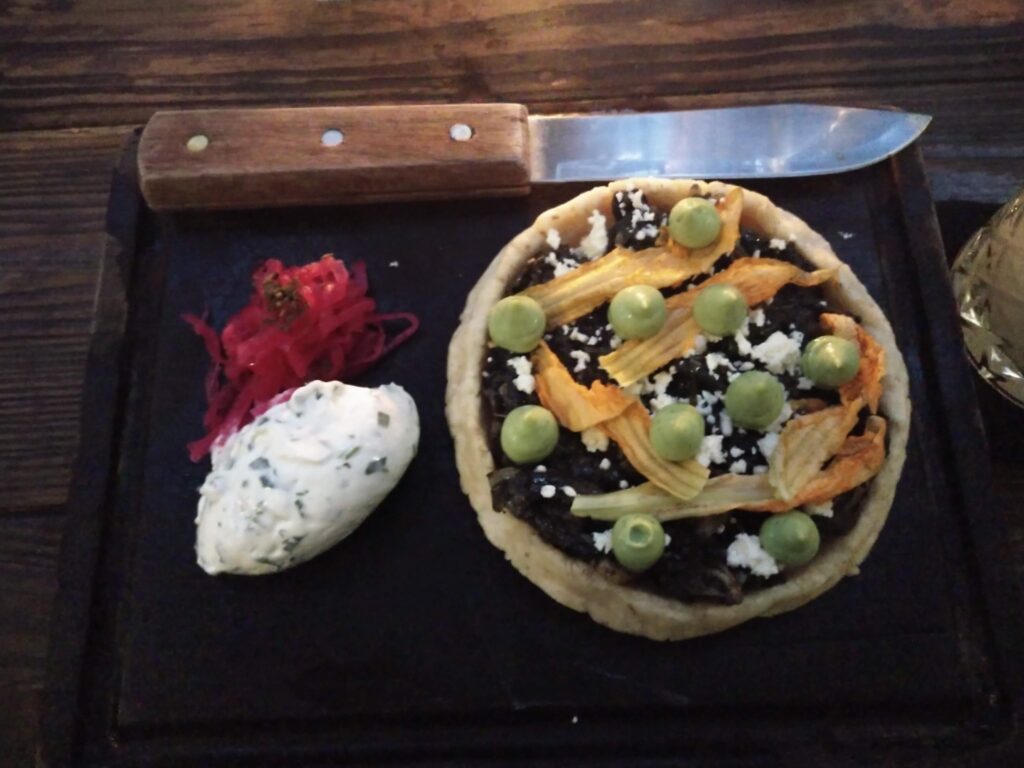 Catch and eat
No food experience in Riviera Maya would be complete without fresh caught seafood. In my Week 2 post, I talked about my fishing adventure. But what happened to the caught fish? The guides took home the barracuda and the tuna, while I had the mahi-mahi later that afternoon at La Cueva de Pescador. The fish was simply prepared with a little bit of lemon and garlic with accompaniments of carrots, cucumber and slaw. Sometimes simple is better!