Mexico
Mexico Week 5: Colors of the Yucatan – A Tale of Three Pueblas
As a life-long art history student (both formally and informally), I've spent many hours strolling through museums, studying museology, volunteering at museums and dreaming of working at a museum. In fact, my entire purpose of pursuing my MBA was to go into museum management. With COVID, one of my favorite travelling experiences – museum exploration – is largely off the table.
Thankfully, over the past century, contemporary artists – particularly in Mexico – have been using exterior walls as their canvas. The origins of Mexican muralism can be found with the Olmecs. Additionally, Aztecs and Mayas vividly colored their building relief sculptures. However, it was in the 1920s that Mexican muralism really started as an artistic, political and social movement. This movement was the backbone of Chicano art, and has spread across North and South American continents.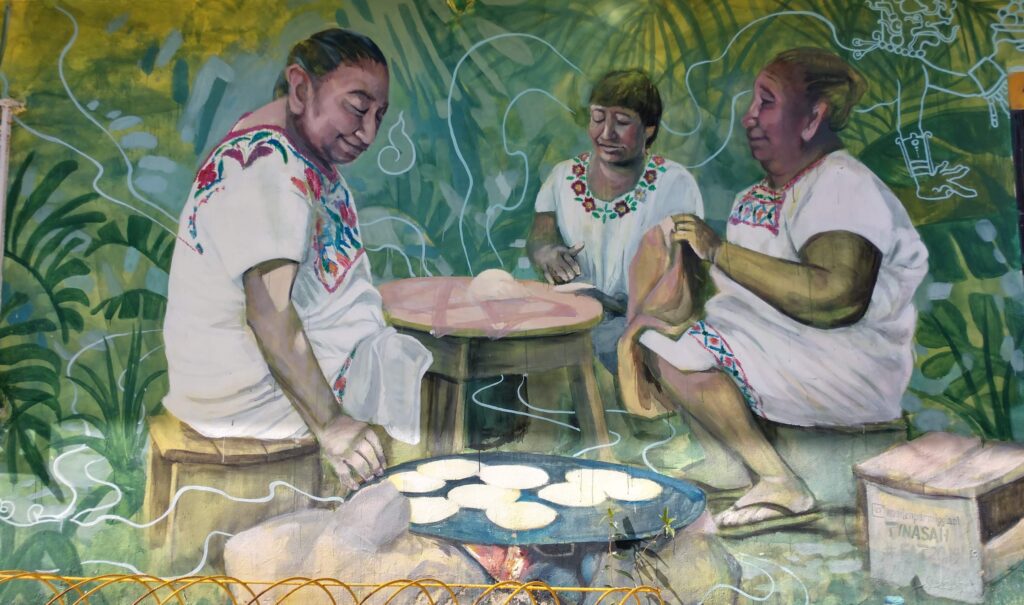 Today, Mexican muralists and muralists from around the world come to Mexico and to practice their art and celebrate Mexican and indigenous cultures. And local groups come together to support the muralists and the broader community. Herein lies the tale of three towns and their colorful exteriors.
Tulum
There are two Tulums: 1) the beach road Tulum with palm frond rooftops, upscale sea to table dining, spas, yoga retreats and $1000/night stays in Pablo Escobar's former vacation home and 2) the Tulum Puebla with a mixture of hostels and souvenir shops on the main Avenida, which is surrounded by local residential and commercial areas.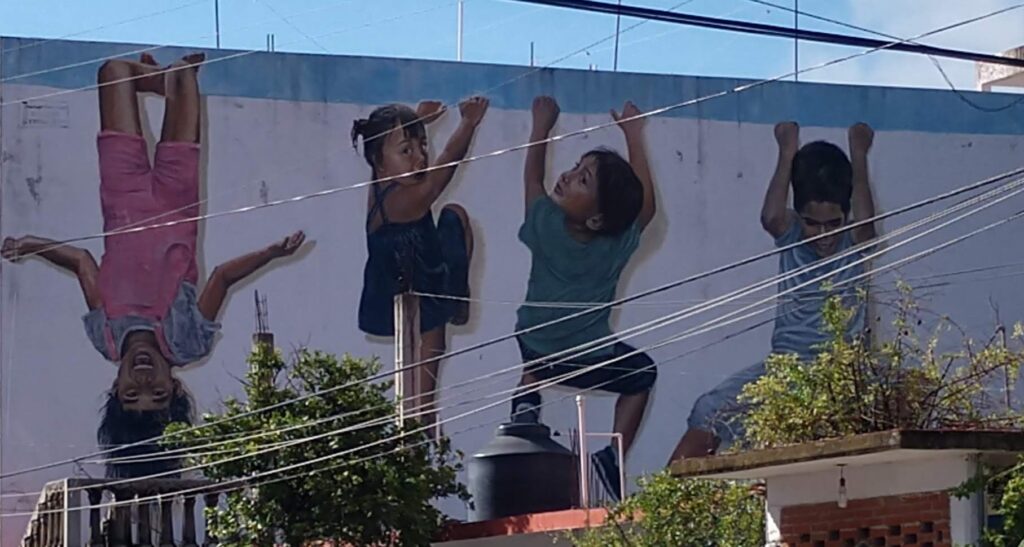 Tulum Puebla boasts a varied mix of murals, many of which are painted through the mural artist collective Tinasah.Many of the murals celebrate the local population, while others offer a visual feast like Hermious Bosch "The Garden of Earthly Delights," wherein your eyes don't know where to look first.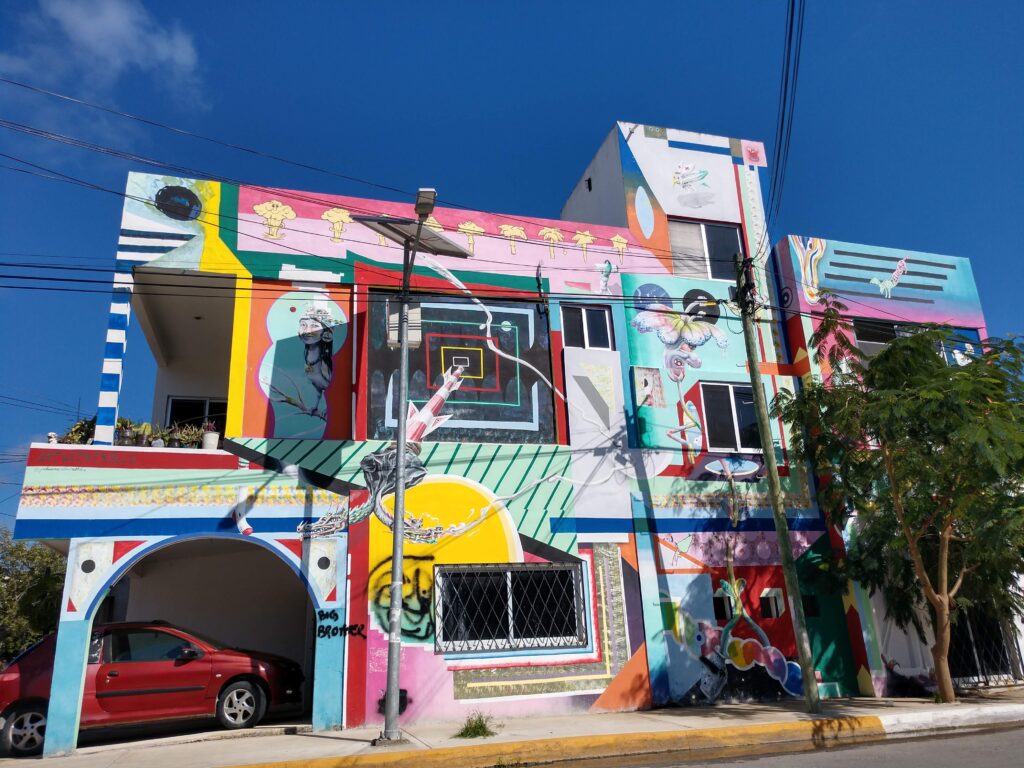 Since Tulum is in the middle of significant transition (it is growing to the meet the ever increasing tourism demand), many murals focus on the continual push and pull between nature and commerce and local and non-local populations.

Unfortunately, the murals in Tulum are not protected (neither from nature nor commerce), and there are several instances of building owners painting over part of a mural, dismantling a wall on which a mural was painted or mother nature washing away the mural. However, the artists persist and are continually on the look out for their next blank canvas.
Akumal
Akumal is much smaller and less well-known quiet beachfront town about 30 km south of Tulum, and its murals have a newer and more pedestrian history. Literally. Akumal Puebla was looking to raise funds to buy lights for the bridge that connects the puebla to the playa (the beach). In 2018, the inaugural Akumal Arts Festival was created, in which over 70 artists from around the world converged on the 1,310 person town to paint murals around the town and the bridge. Funds from the festival would go to lights, community education, scholarships and other community enrichment. In 2019, the number of artists increased to 150.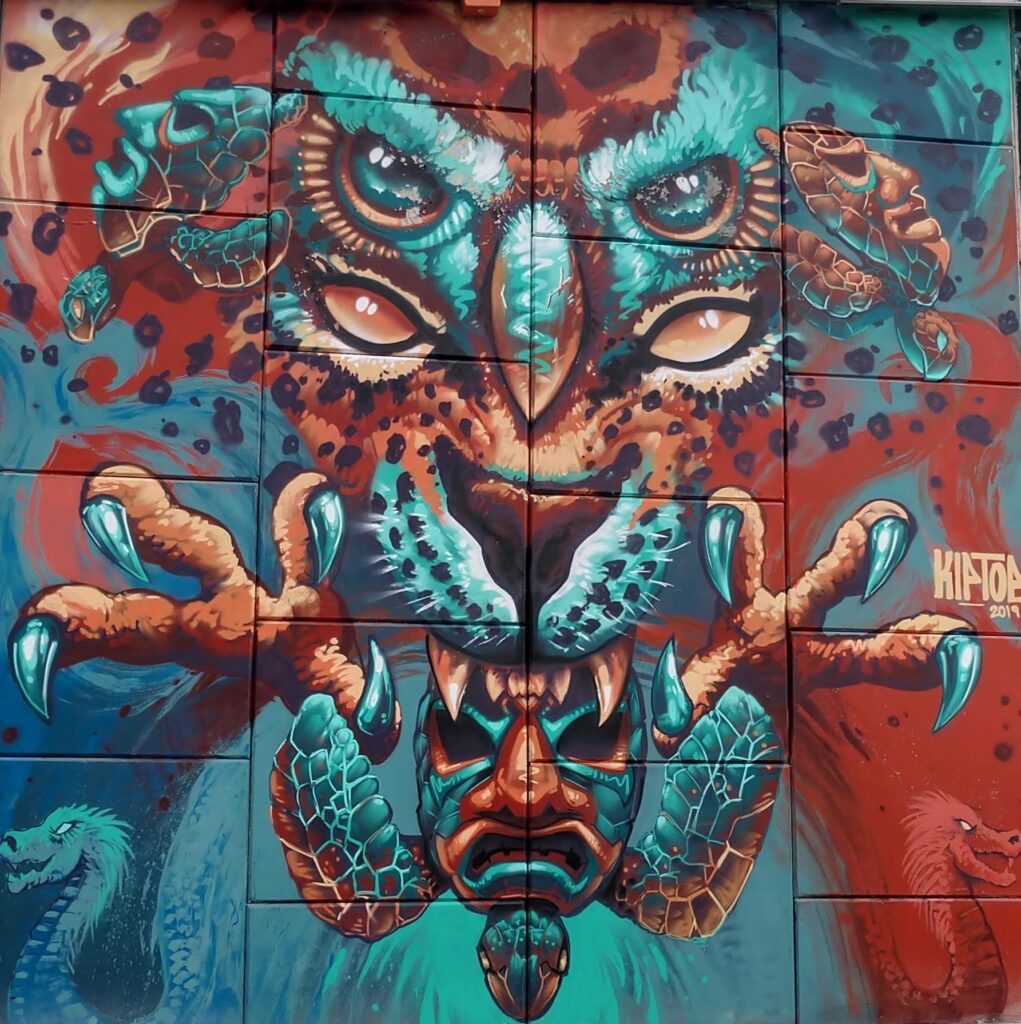 The community completely embraced the festival. If a building owner wanted a mural on their wall, they had to agree to not paint over it or destroy the mural. However, if an artist returned to participate in subsequent festivals, the artist could paint over or touch up their previous work.

With COVID, the 2020 festival was significantly pared down, and a handful of local artists came to create new murals over their past work.
Akumal means "land of the turtle" in Mayan, and there is a significant emphasis on turtle habitat preservation and overall environmental protection throughout the murals of Akumal. However, there are also smaller, more intimate and personal stories conveyed through the murals.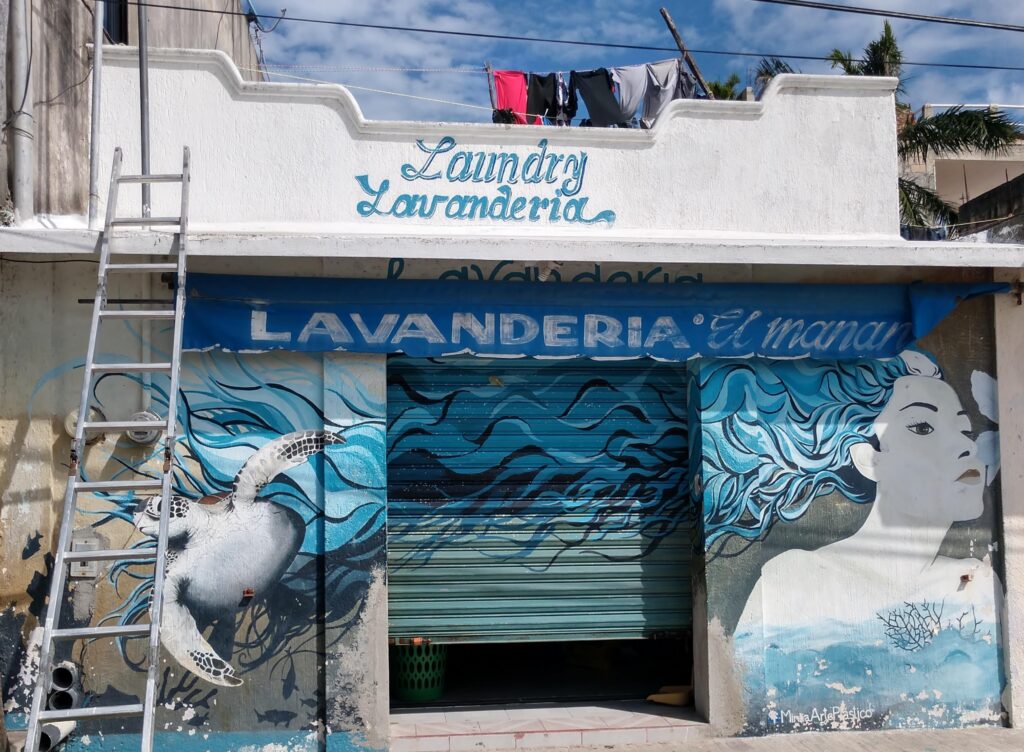 Valladolid
What if instead of using bland, blank white exterior walls as a canvas, each building was a colorful display making the entire town look like a box of crayons? That is exactly what Valladolid is.
Valladolid is an inland Spanish colonial town that was built on top of an old Mayan town. In fact, the Spanish conquistadors dismantled a Mayan pyramid and used the stones to build the main cathedral.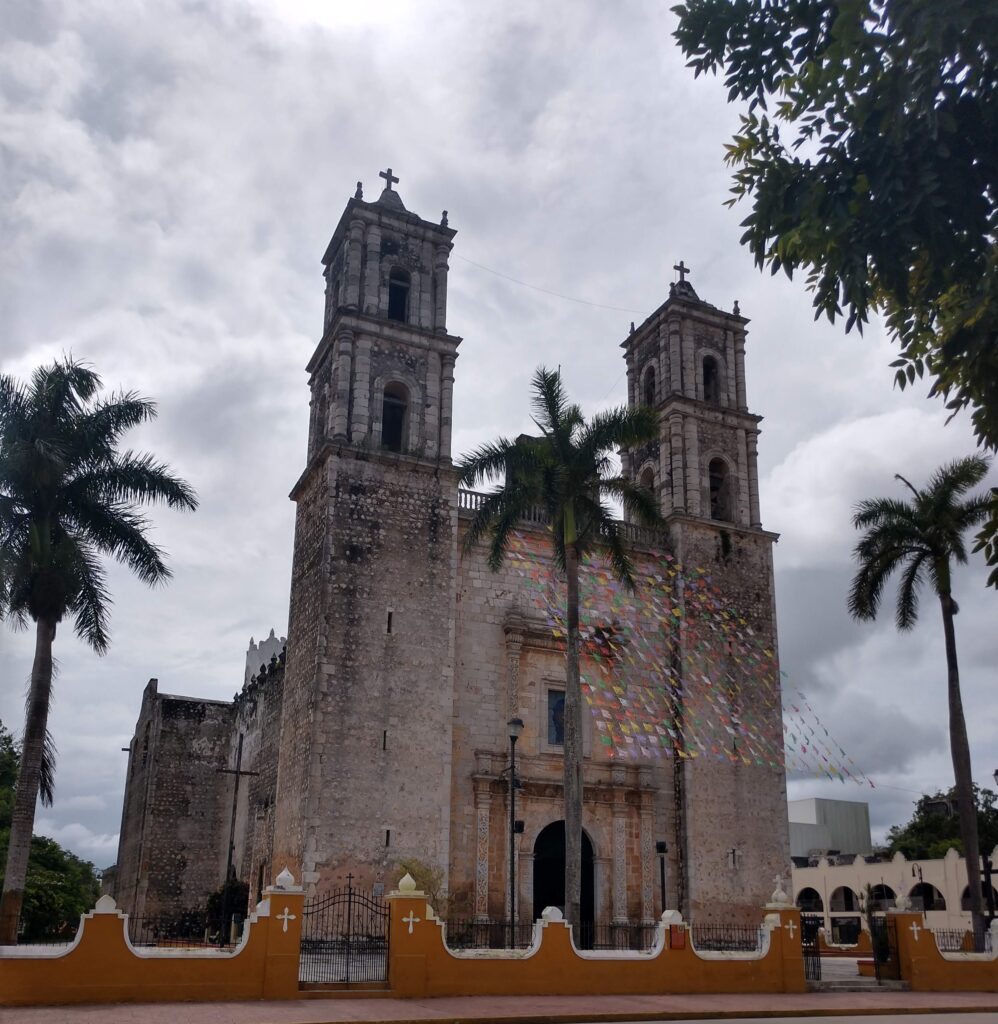 However, what makes Valladolid so unique is how the entire town is a work of art. It has been called the "Sultana of the East." Even as you travel beyond the main square, the color buildings continue. It reminded me of the Venetian island Burano, but significantly larger (Valladolid's population is 24 times that of Burano).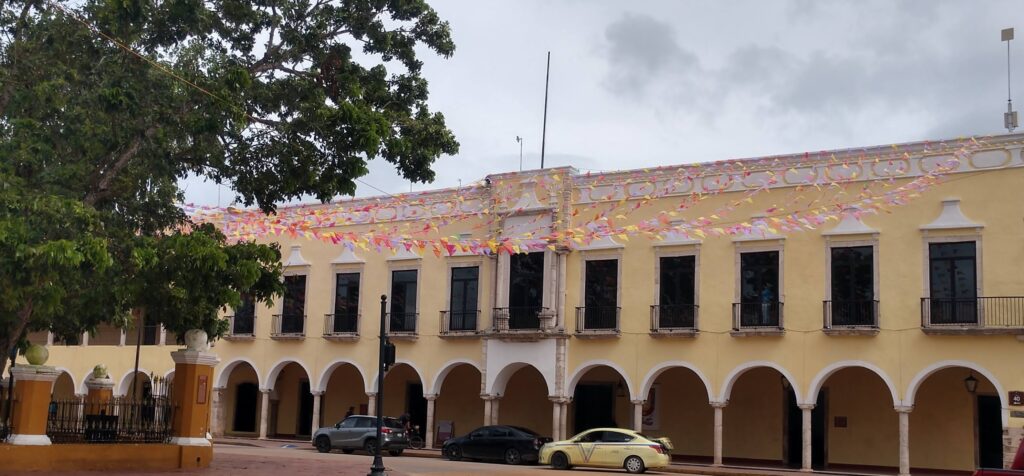 Considering the harsh Yucatan sun and rain, maintaining this community color story is no easy task. You will see a bright and freshly painted building right next door to a building with a washed-out patina. It is a beautiful dichotomy.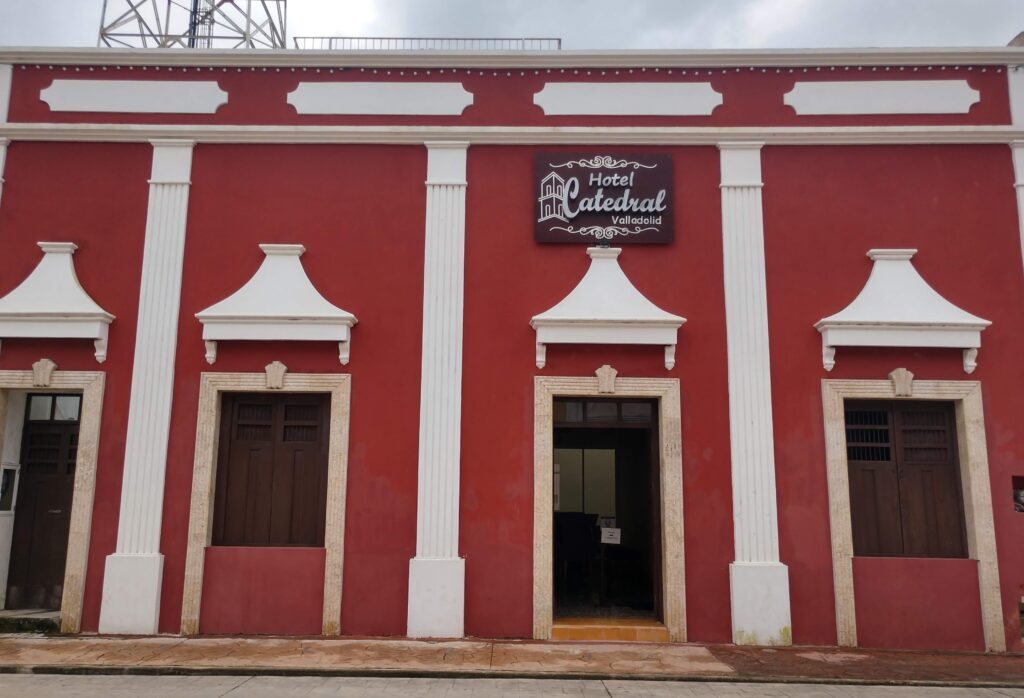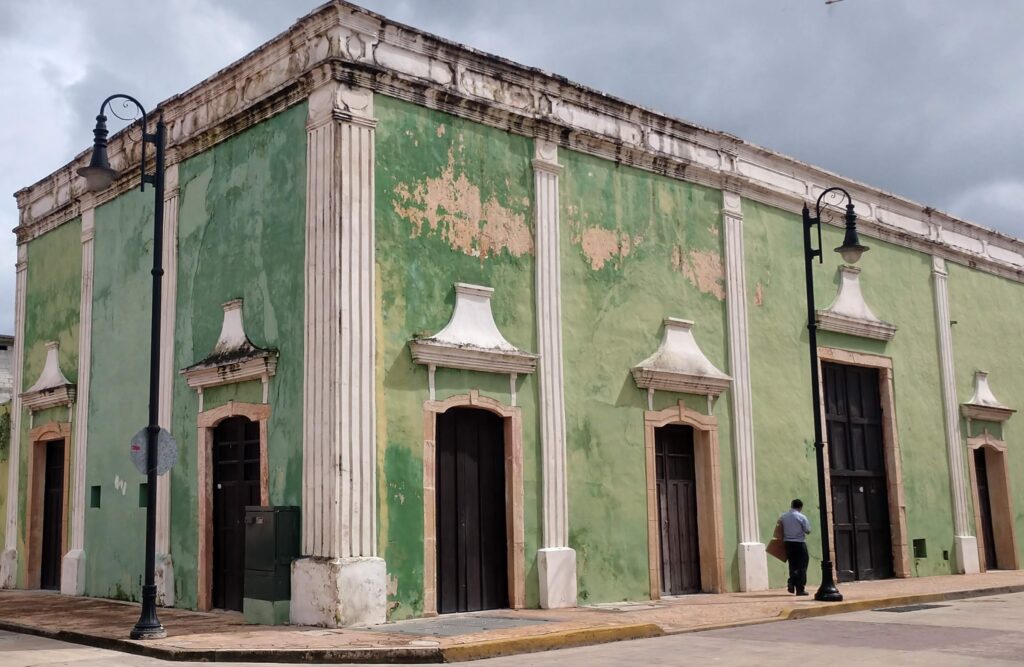 Tulum, Akumal and Valladolid embrace you with color, life and full understanding that art is everywhere.