Mexico
Reflections on Mexico
When I originally sketched out My Grand Adventure, I had envisioned starting with a summer in Europe, before moving onto the Middle East, Africa, Asia and then travelling to Latin America in 2022. However, just like most of us COVID changed my 2020 plans.
Instead, I started in the autumn with a relatively long sojourn to Mexico. Reason being that Mexico was one of the few countries open to Americans. Plus, I felt I wasn't ready to just jump into a hectic travel pace, after having surgery, selling and moving during a pandemic and walking away from my corporate career.
I decided to focus my time in Mexico to "reset, relax and re-establish healthy habits" (plus do some sightseeing). What that meant at the time was losing the COVID 19 weight, getting back on a regular workout routine and just chilling on a beach.
I'm happy to report all of those goals were accomplished (including exploring ruins and other cultural activities)! But I actually achieved so much more.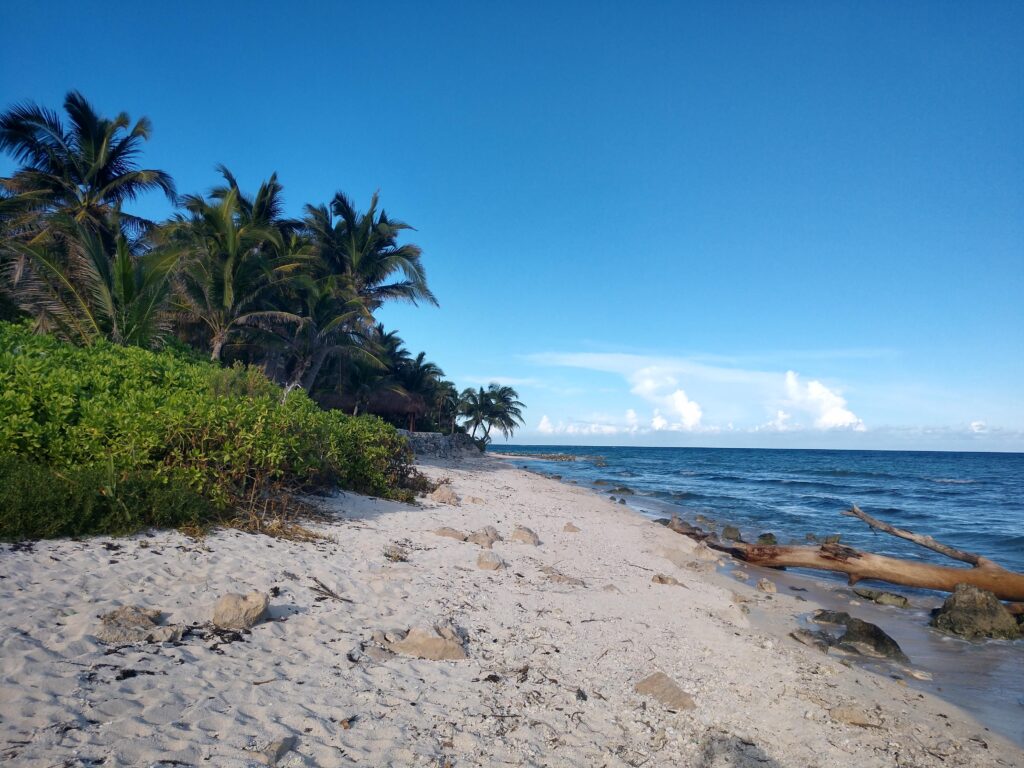 Enjoying the unplanned life
For the past 20 years, I've planned for the next six months and the next 30 years. But when I first arrived in Mexico I had absolutely no schedule, no commitments, no plans, nothing. AND I LOVED IT! Originally, I thought this would be really hard for me to handle, since planning/scheduling has been a way of me to manage my anxiety (see: failure to plan is planning to fail). And honestly, I thought I would get bored.
But, by having so much quiet and alone time, I was able to really think through my life experiences and personal relationships. I had the time to actually process and understand my feelings on several fronts – both positive and negative.
Since leaving Mexico, my life has continued to be largely unplanned. I'm currently in the Middle East with neither a return ticket to the US, nor an idea when I would return (it is really dependent upon vaccine eligibility timing). Most of my airfare and accommodations for the next three months are booked, but there are certainly some gaps. After that, I may venture south into Africa, north to Europe or east to the Indian Ocean.
Moving from a place of "no"
I have an overly developed distrust of strangers and the unknown. Blame it on a combination of "stranger danger" videos in school, the Nightstalker (I grew up in LA in the '80s), and violence in my own community. Whatever the trigger or combination of, it led me to prioritize safety and stability, and essentially to become highly risk averse.
It's not to say I don't try new things (Come on, I did quit my job to travel the world!), but I have a tendency to come from a place of "no." And this was something I had been working on in my professional life.
Throughout my time in Mexico, I had to fight my initial (natural) reaction to say "no." For if I hadn't, I would have missed out on so many things: private fishing trip organized by my waiter, hanging out in a sweat lodge with a shaman and meeting really inspirational people.
Part of this was applying a professional adjustment to personal interactions, but I was also aided by a Tulum-based life coach who conducted a personal manifestation workshop with me. When I booked it, I had no idea what "manifesting" was, but figured I'd give it a go, plus the reviews were good. Though initially I was a little skeptical, by the end I got it. Essentially, it is strategy planning mixed in with the energy that one projects.
Finding a sense of calm
Mother Nature in Mexico was really trying to test me knowing this was (to date) the longest time I was by myself in a foreign country:
1. Hurricanes (4, though technically 3), plus subsequent power, water, telephone outages and clean up impact
2. Home invading scorpions, frogs, centipedes, reptiles, giant spiders and mosquitos
3. Torrential rains (not necessarily related to item #1) and typically being caught outdoors without an umbrella for an extended period of time
When I went through two hurricanes in the first week – and related anxiety attack – I started to think it was some sort of sign. I honestly thought I might die, or at the very least get maimed by a ceiling fan when the roof would eventually get torn off. I didn't die. I wasn't maimed. The roof didn't get torn off.
By my last week – and my last hurricane (outer arms of Hurricane Iota) – I was rather immune to it all. So much so, on one of my last nights I wanted to have dinner on the beach. However, the weather wasn't too cooperative – gale force winds and some rain. But I would not be deterred, so I sat at a table on the beach. Halfway through my meal it started to really rain, so I opened up my travel umbrella and continued eating. Yes, the umbrella went convex, but I didn't care. And then it struck me.
No, not the umbrella. But the fact that I was sitting outside in a torrential downpour with questionable protection and I was completely OK. I was better than OK, I was chuckling to myself the absurdity of it, and I wanted to maintain the absurdity of it.
Unfortunately, my server did not find the same level of amusement in my situation, and in two very quick trips moved my food and various accoutrements to the palm frond-covered bar, while I attempted to close my umbrella.
I had reached a sense of Zen that Franny Glass would have envied.
Meeting others who have done it and were the better for it
During my Mexico adventuring, I met several people with whom I felt a kinship:
1. Quentin – a French chef, who was working in London and decided he was tired of the intensely competitive London culinary scene, so he sold all his possessions to travel around Latin America. Eventually he met the love of his life, bought a piece of jungle land and created a wonderful hidden gem of a P&B.
2. Susan – a former corporate travel agent from Australia, who envisioned herself dancing on the beach…alone. She left her 11-year relationship, and moved to Tulum. She now travels around Central America helping others realize their goals.
3. Zack – a former sales manager and sales trainer from New Jersey, who wanted to support local artists, so he used his business knowledge to establish a mural artist collective in Tulum.
4. Pablo – a former brand manager for Cartier in Mexico City, who realized he wasn't cut out for the corporate world, so he sold all his possessions and travelled to India for 18 months. Now he teaches yoga on the beach and does spiritual/energy counseling. Very successfully, I might add!
Many times over the past several months I have thought, "What the hell am I doing?!" and "Holy crap! Did I make a huge mistake?!"
When I was in Mexico, I had this feeling (at least once a week), particularly during one of the many hurricanes. But then I would think about where I was, and what I was doing. I wasn't on Teams/Zoom call. I was walking near a jungle. And you know what? It felt right.
I could not imagine myself being anywhere else than where I was at that moment. Hearing other people's stories further helped cement that I made the right decision, and in the end it will all work out. Whatever "it" is and whenever the end is.