Greece
Greece: When the present is history
One of my main challenges in maintaining my blog is my inability to quickly reflect on what I have seen and experience. During my travels, I'm constantly listening, reading and digesting information while simultaneously analyzing and contextualizing it within my existing knowledge set. This helps me process and retain what I'm learning. Which is why I'm amazing at trivial pursuit and Jeopardy!
However, it is not terribly conducive to "in the moment" contemplation and/or reflection.
Today was different. Today, I was able to absorb, analyze, contextual and reflect synchronously, and was compelled to share. On the recommendation of my extremely qualified Cycladic Island guide, Evgenia (Jenny), I experienced the Museum of Contemporary Art in Thessaloniki. This was not a museum visit. This truly was an experience.
Side note: In general, I'm rather hesitant toward contemporary art, as I often find it too self-involved or too abstracted to really connect with it. But I am always willing and open to explore. In my opinion, the best art is the art that encapsulates the political, social and economic realities in which the art was created. It could be beautiful or horrific. For example, Impressionism could not have occurred without the Industrial Revolution. Innovations, including mass production, tube paint, trains and railways enabled artists to actually paint in plein air. Thus, allowing painters like Monet and Renoir to paint outside and see the evolving light in nature rather than be cloistered in studio. Likewise, the fall of the French Second Empire and establishment of Third Republic of France in the latter half of the 19th century created a more egalitarian approach and appreciation towards art beyond what was deemed appropriate by the academic tastemakers of the Paris Salon.
"When the present is history" curated by Daphne Vitali is an amazing story of events from the past 70 years as told by 17 artists from a dozen different countries.
The story is not told through traditional "artistic" tools of paint, sculpture, fabric or even the popular "mixed media" (a favorite artistic medium for the past 25 years). Instead, it primarily uses "media" as we know it in our current lexicon: newsreels, photographs and movies and juxtaposed with de-classified memos, flags and Mylar balloons. These tools enabled an immediacy of connection and reflection.
If not for the innovations created by our modern Information Age both technological (television and film) and political (Freedom of Information Act), this exhibit would not have been possible. Concurrently, the artists use a modern approach to remembrance and memory to weave multisensory tapestry of war, economic hardship, religion and the rise and collapse of political systems.
"When the present is history" opens with three powerful pieces:
The Workhouse (Breitenau Room), 2012 by Ines Schaber and Avery F. Gordon. A sound installation that looks at the history of confinement: a former monastery, workhouse, concentration camp, Gestapo camp and girl's reformatory. It challenges the viewer by asking: "How to tell the story of a very old place of confinement and punishment? What happens if all the pictures are wrong or missing and the people long gone? What traces and message might they have left for us to find? After such terrible treatment, is it possible now to offer those confined in the prison a more hospitable welcome? This is the hope."
When I took in the exhibit, it immediately brought to mind the recent news coverage and societal focus on Native/Indigenous schools established by religious organizations and government-sanctioned throughout North America and the grim discoveries of mass graves of children forced to leave home, give up their culture, be tortured and abused. Their family members' pleas about their missing children left unanswered for generations. I was moved to tears.
Dead Flags, 2011 by Ivan Grubanov. The flags are from the old communist party of what was Yugoslavia. When I saw the flags lay torn, tattered and bloodied on marbles steps, I instantly compared this to the killing of Emperor Julius Caesar by Roman senators on the steps of the Senate. The desire for a government elected by the people taking down an autocracy.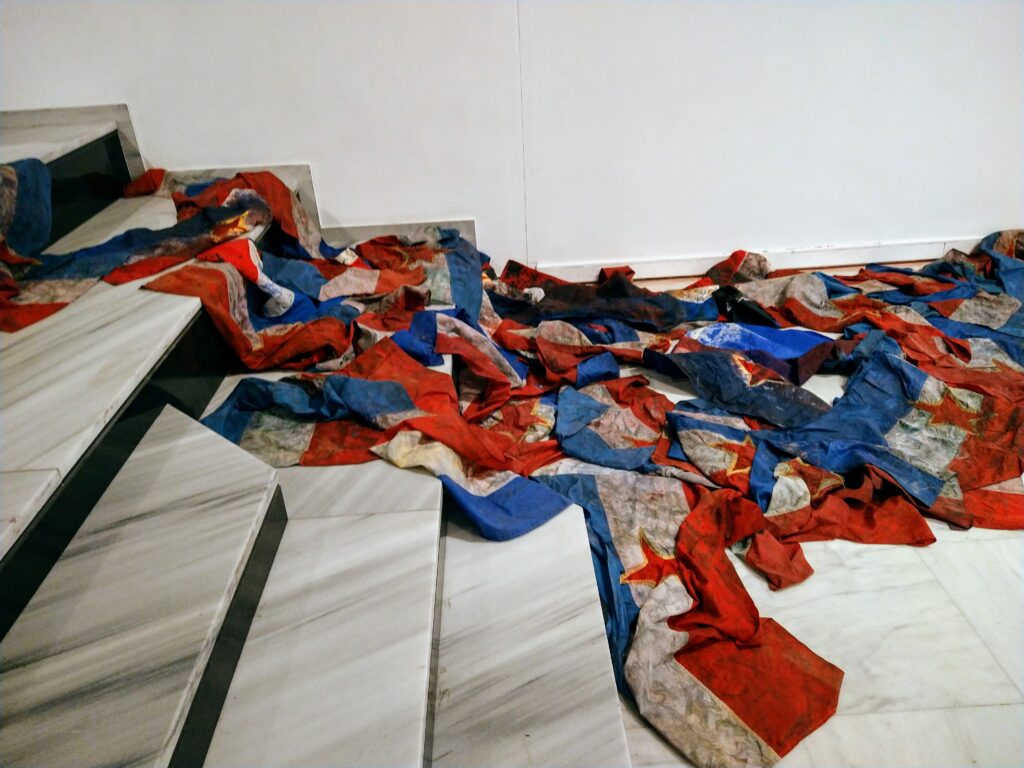 every day words disappear. Michael Hardt on the politics of love, 2016 by Johan Grimonprez. The film intersperses an interview with Michael Hardt, political philosopher, reflecting on Machiavelli's stance in The Prince that it is better to be feared than loved, and the Jean-Luc Godard's dystopian film Alphaville, where all words and concepts around love and affection have been banned. It asks the questions: "What would it mean to base a political system on love, rather than fear? How can we transform a society that is increasingly defined by a permanent state of war and cultivated by an industry of fear? How can we realize the paradigm shift necessary to move away from a reality that depends on the exploitation of people and cult of privatizing public resources?"
My immediate reactions were: a) I need to see Alphaville and b) I need to re-watch this video and I hope it is available online. My subsequent reactions were more that this should be required viewing in high school civics classes and political science introductory classes. Lastly, it reminded me of a moment a few days ago, while driving between Meteora and Mt Olympus. John Lennon's Imagine came on the radio, and all three vehicle occupants – Thessaloniki resident, an 18 year old Moroccan-Israeli student/soldier and myself – quietly sang along. Later on, these three musketeers would sit down along with a Russian family, and two other Greek family members to eat dinner around a small table.
Other pieces included coverage, contextualization and contemporary evaluation of the Greek protests in the late 1940s, terrorism by 17 November over the last 70 yeras, Italy's PM Berlusconi's meeting with Libya's General Gaddafi in 2004, a halcyon-tinged reflection on the Greek-Syrian trading lines in the early 1970s.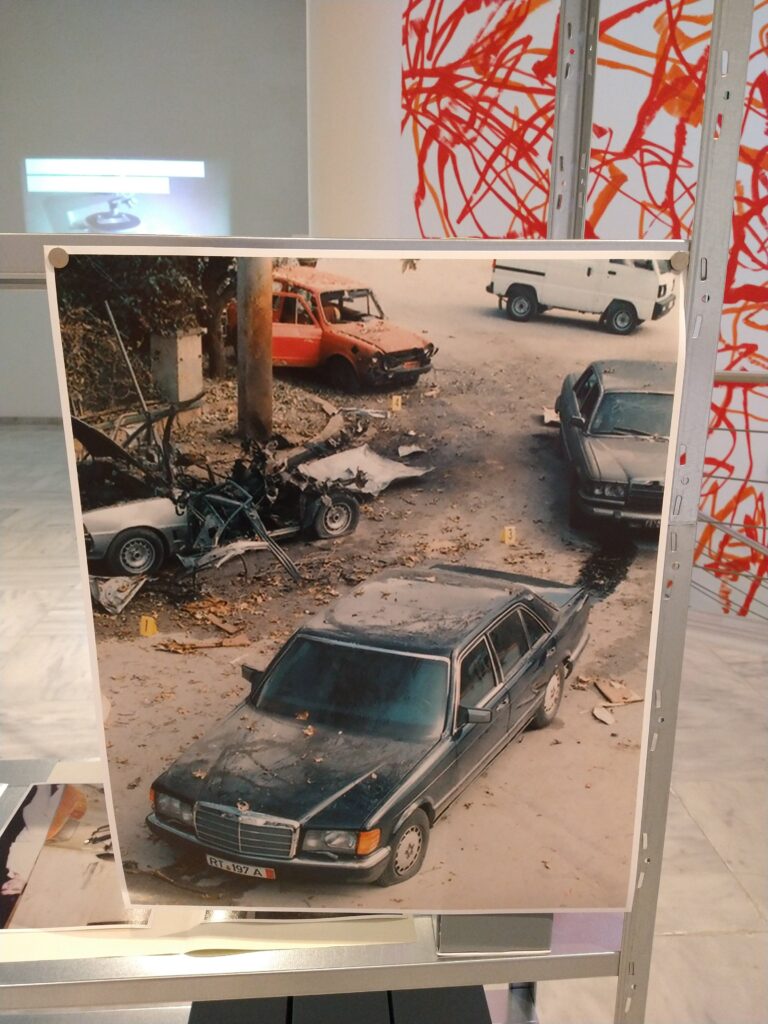 But the power of the exhibit is not only in the audios and visuals, but in the larger geographical context. Thessaloniki, and Greece in general, has been in a near constant state of turmoil since its founding ~3000 years ago. City-state wars, millennia of conquests, civil war, multiple failed rebellions, successful revolutions and coups, economic collapses and centuries of safeguarding refugees.
In a country whose modern identity and economy relies on its preservation of ancient history, it is important to remember that the present is history.