United Arab Emirates
UAE: Desert Safaris
Beyond the extreme rich and poor dichotomy that pervades the UAE, there is another extreme dichotomy – the landscape. For miles upon miles you are surrounded by glass and steel canyons on the Sheikh Mohammed Bin Zayed Road, but if you exit the road and drive inland within 20 minutes you are surrounded by desert sands lightly dotted with new or under construction developments.
As you leave the coast the sky becomes almost painfully blue contrasting with the red or gold sand. There is no coastal fog nor air population.
Throughout my time in UAE I went on three different desert safaris across three different emirates: 1) Bedouin cultural in Dubai, 2) Mechanized and adrenaline-fueled in Sharjah and 3) Nature reserve retreat in Ras Al Khamiah
Bedouin culture safari
During this adventure, I was joined by a Chinese-Belgian family of three. After a 15-minute open air, off road ride in a classic Mercedes jeep-like vehicle, where we all felt like we were in an Indiana Jones movie, we were ready for our sedate camel ride.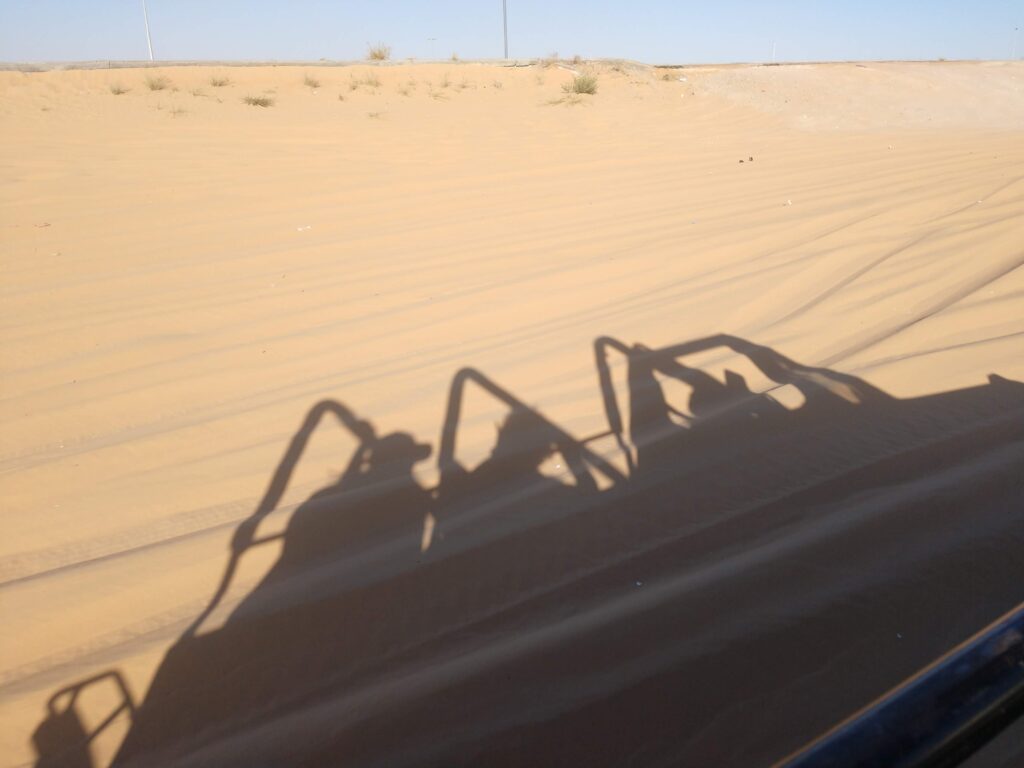 The 45-minute camel walk over the desert dunes was very calming and particularly smooth. To date this has been my only camel experience, and I was a little concerned after watching Countess LuAnn's on RHONY during a trip to Morocco (background: her camel went galloping off and she was either thrown or almost thrown off). Must say, I prefer camel riding to horse riding.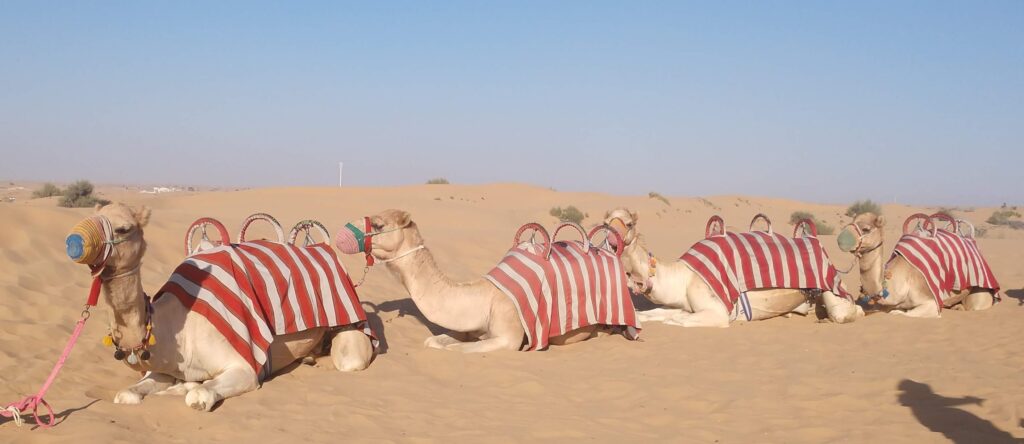 Afterwards, we were free to ramble around the little open air entertainment camp that had been built in the middle of the desert. I got a henna tattoo on my right hand and took pictures of the setting sun.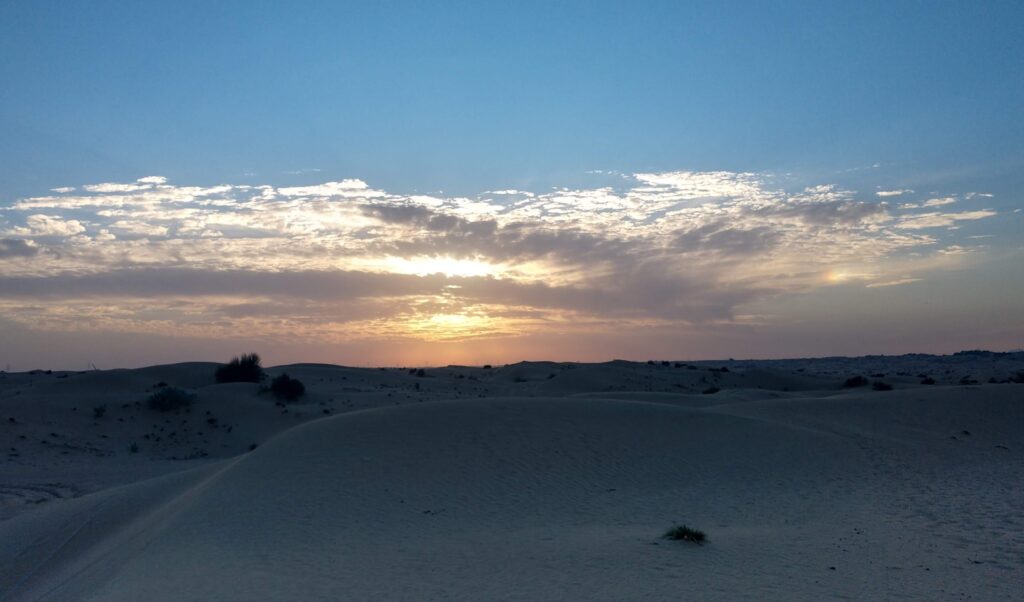 Slowly more groups started to come into the camp, in all there were probably 100-150 people spread around a place that could easily hold a few thousand. We were all getting hungry for dinner.
The meal, like all meals in UAE, had massive amounts of food, both in quantity and diversity. 8-10 appetizers, 4-6 mains, 3-4 rice dishes, plus another 8-10 sides, soup and then about 6 different deserts. The menu was two pages long, and it was a buffet!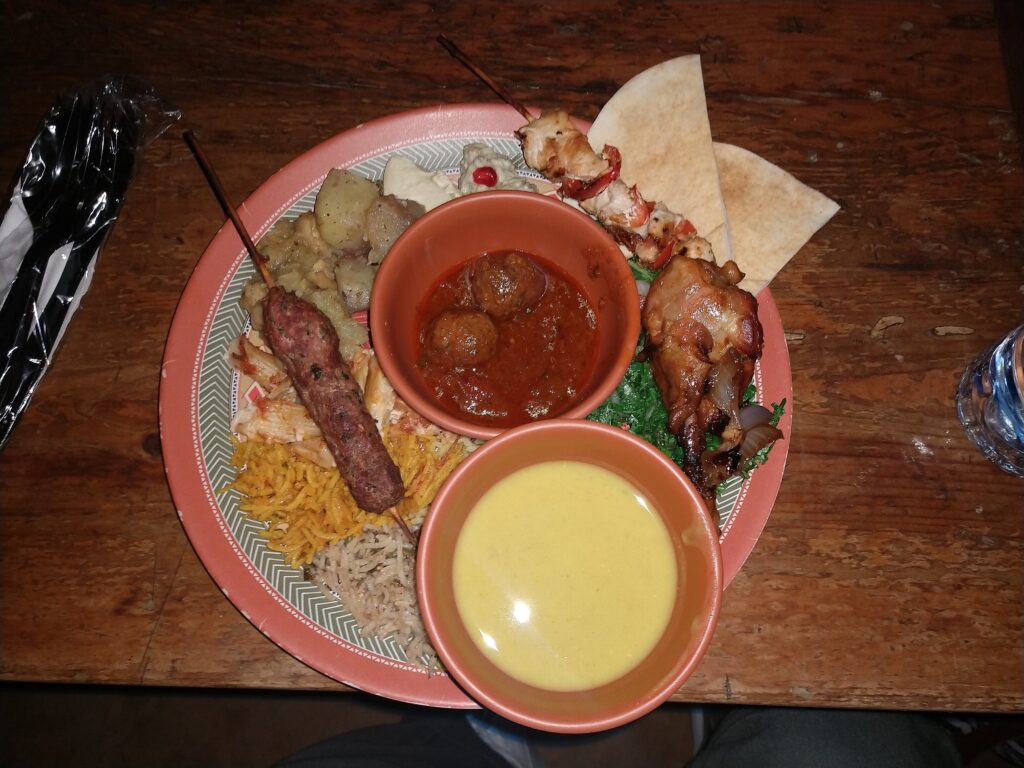 As the night had descended upon us, and the lights were turned off so we would focus our attention on the myriad of performers: twirling light dancer, hair dancers and a fire dancer. I was impressed the twirler didn't collapse after spinning for about 15 minutes straight, the hair dancers reminded me of Beyonce (who inspired whom? Not sure), and the fire dancer blew my mind.
In between riding camels, partaking in a massive buffet dinner and being entertained, my fellow adventurers and I talked about how our respective countries were handling COVID (neither Belgium nor the US was managing it well) and the history of systemic racism in the US. Your standard dinner party conversation with strangers.
Mechanized and adrenaline-fueled safari
Before coming to UAE, I was told I needed to go ATV/quad riding by two friends. In addition to never riding a camel, I'd never gone ATVing/quadding. I was a little hesitant, because I didn't want to potentially damage the natural landscape/ecosystem, and because it was something I never really wanted to do. But one of My Grand Adventure tenets is to try new things, so…
On this safari into Sharjah, I was joined by a British father and son: Peter and Monty. They had planned to leave UAE a couple weeks prior, but delayed their departure due to the UK COVID variant that had popped up and new UK lockdown restrictions. Plus, that day was Monty's 17th birthday. Peter had been to Dubai well over 30 times in the past 30 years and was a wealth of insight on how the place had changed/evolved during that time.
Our adventure began with SUV off-roading on the red sands of the Lehbab Desert for about 30-40 minutes. Which I did not expect, and as I was solo travelling, I was riding shotgun! It was very thrilling and our driver, Abhi, was extremely skilled in navigating all the ridges and rivets in the dunes. I now noticed and understood why our SUV had been reinforced with roll bars/roll frame in the interior. As it was Monty's birthday, I asked if he wanted to ride shotgun at some point. He demurred.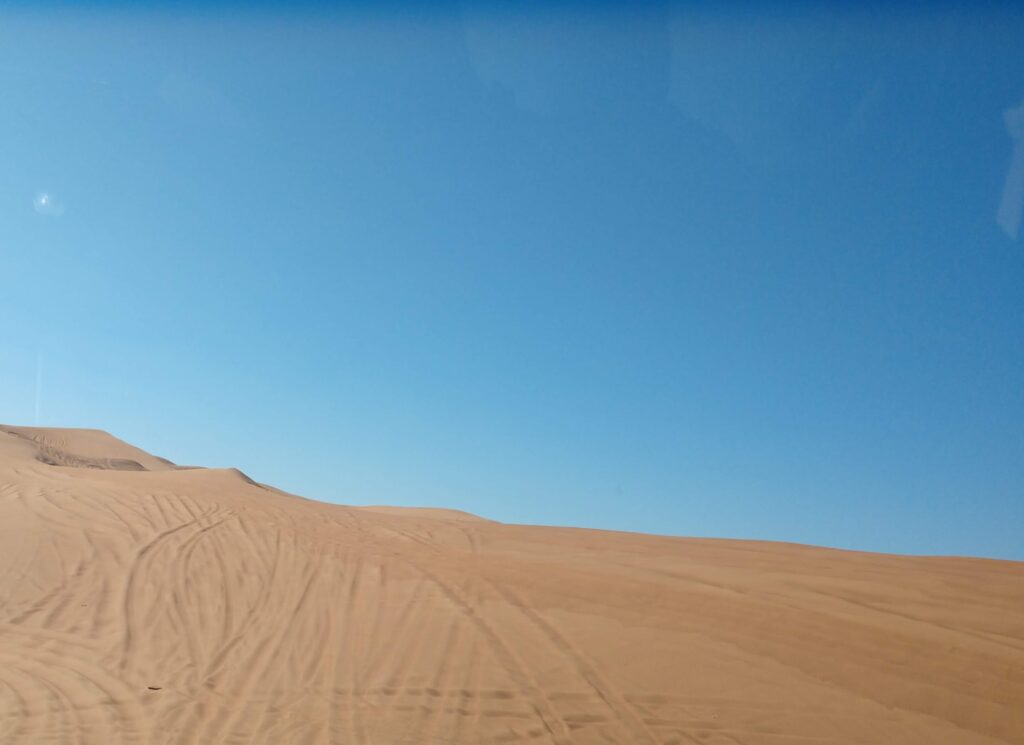 We then paused the kidney tennis match (aka dune driving) to do a bit of sand surfing. Both Peter and Monty had snowboarded before, and Peter volunteer to surf first. He quickly fell, and got back up again, and fell again. I went next and opted to do sand sledding instead of sand surfing, since I had never surfed nor snowboarded, and I didn't think attempting it on a 50 foot 70 degree incline sand dune would be a good place to start. After going about 35 feet and really picking up speed, I got scared and hit the brakes (e.g., took my feet off the board and put them in the sand). After a spin, I ended at the base of the hill looking up. But I did not fall or lose contact with the board. Monty went next, and on his second attempt became the first of us to complete his descent uninterrupted.
After getting very dusty, it was now time for ATVing. This particular ATV experience was in a closed course, which I appreciated from an ecosystem perspective. I was adamant about wearing a helmet; however, others (not in our group) were less safety inclined.
With the basic driving guidance limited to accelerating and decelerating (everything controlled by the right thumb) I was off! During the next 30-40 minutes I went over dunes and previous riders tread marks, and then I got stuck going up a dune. Accelerating just deepened the hole the back wheels were in and caused sand to fly. Unfortunately, my operating tutorial did not explain how to reverse the vehicle nor how turn it off. Thankfully Peter went to get help and I was quickly back on my off-road path. I had a lot of fun, and would probably go ATVing again if the opportunity arose.
Nature reserve retreat
Dubai is a high stress city. At times extremely frenetic and other times the stillness creates an uneasiness that put me on alert. Then an attempted coup happened in the US, so I was at "Mexican Hurricane Preparation" on my stress index, including stove top pizza cooking and Outlander binge-watching. I needed to retreat, and my sojourn at the Ritz-Carlton within the Al Wadi Desert nature reserve in Ras Al Khamiah was perfectly timed.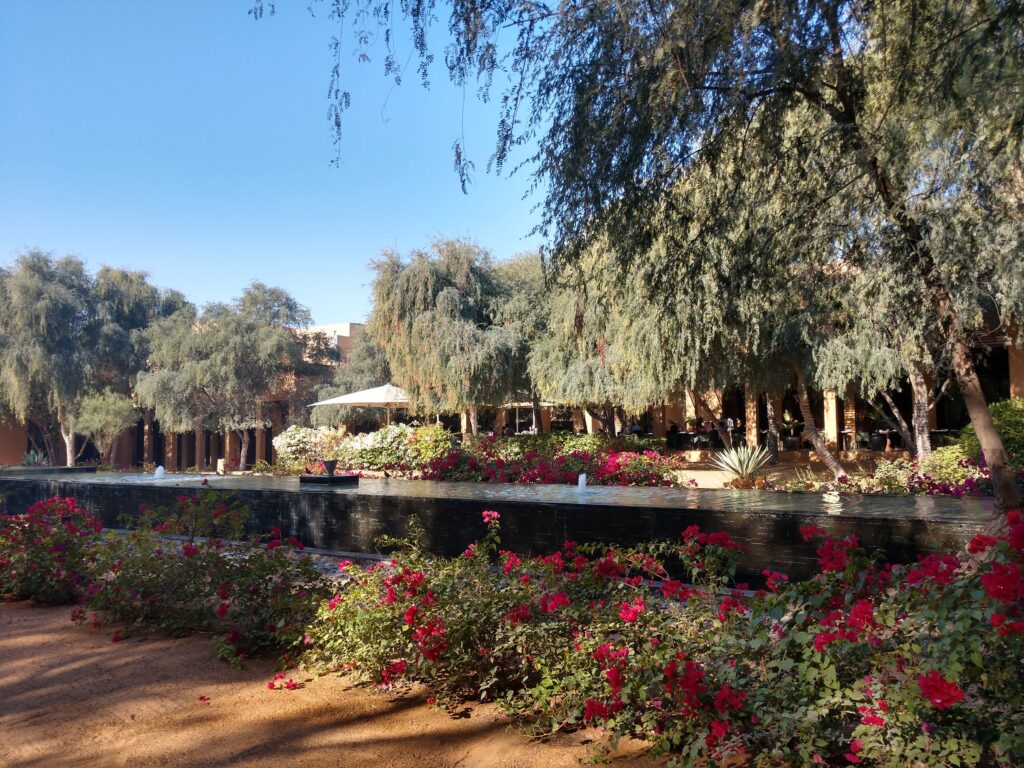 The first evening I spent golden hour at a rooftop bar watching the sunset over the desert and listening to evening birds chirp. I marveled at where I was and grateful that I could be at this spot at that moment in time. This was an excellent start to my decampment to paradise.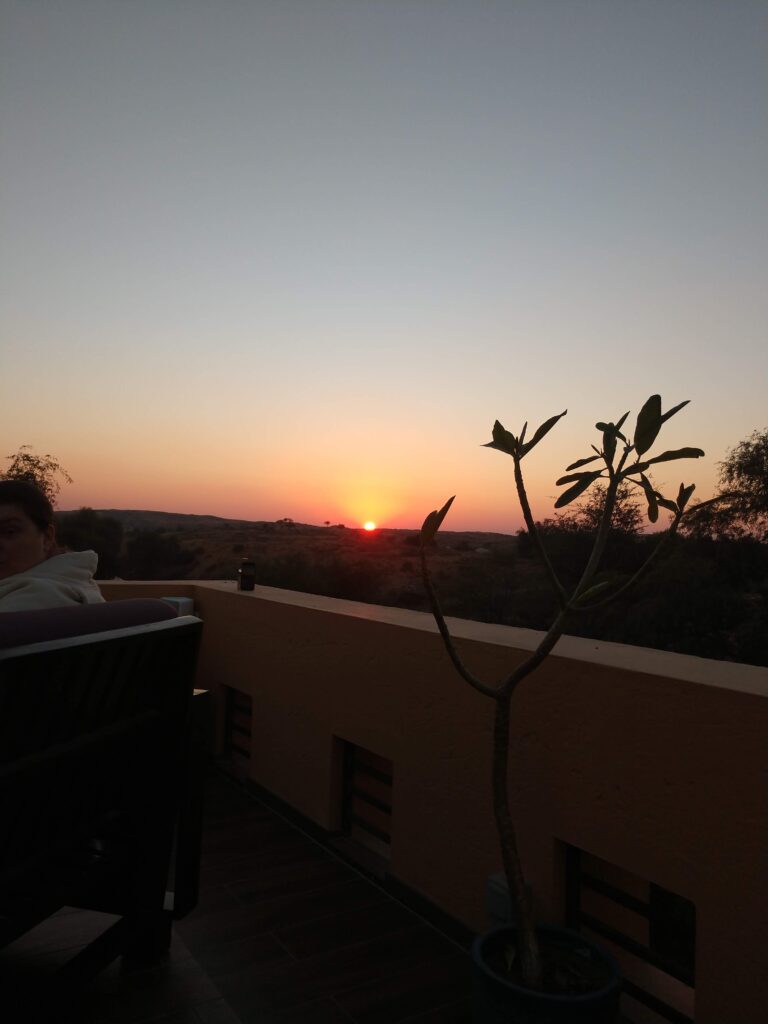 With the help of the wonderful concierge, Dickson, I was able to curate an educational, inspirational and calming desert safari sojourn: stargazing and archery sessions, interacting with and feeding hawks, owls, oryxs and gazelles and riding a retired Arabian race horse across the desert.
Combine this with the decadent spa services (the Amazing Massage Therapist May) and the rainforest bath indulgence that includes more than a dozen alternating hot and cold rooms (e.g., saunas, ice water plunge, steam rooms, igloo, massage pools, haman) and most of my stress was sweated, massaged, or nature therapied out of me.
Additionally, I found solace napping outside on a giant outdoor circular couch or swimming laps in my private infinity pool. Some days I wouldn't leave my hotel room except to go for a walk around the reserve. A perfect place to practice social distancing.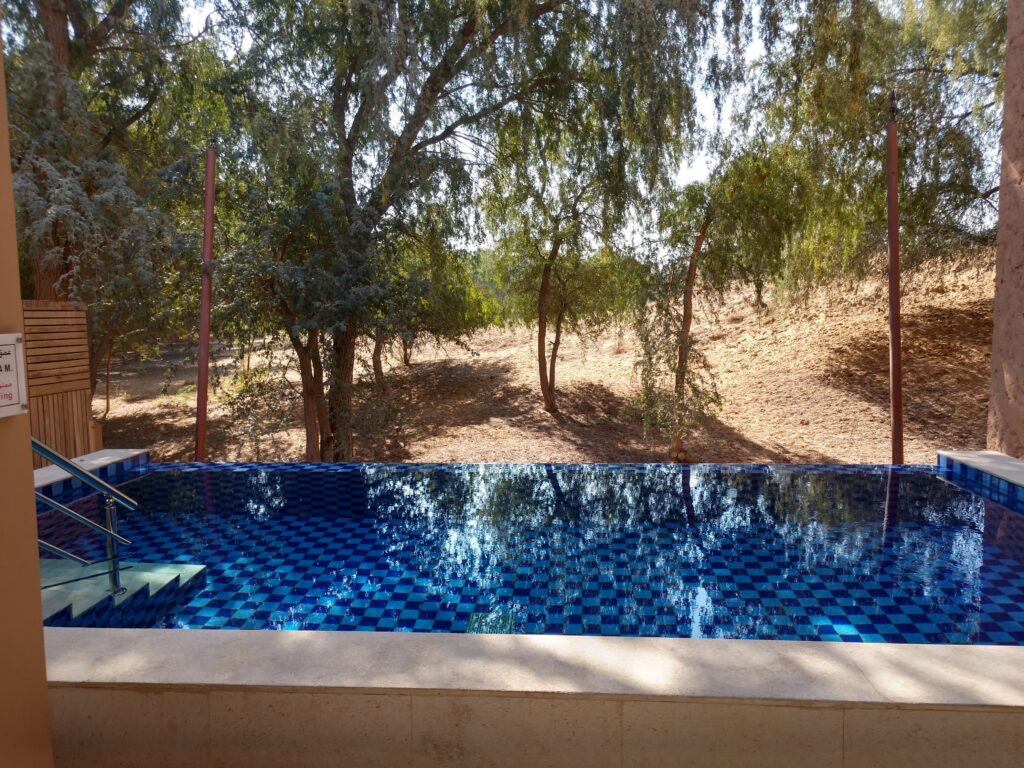 All of this created a truly was a once in a lifetime experience.